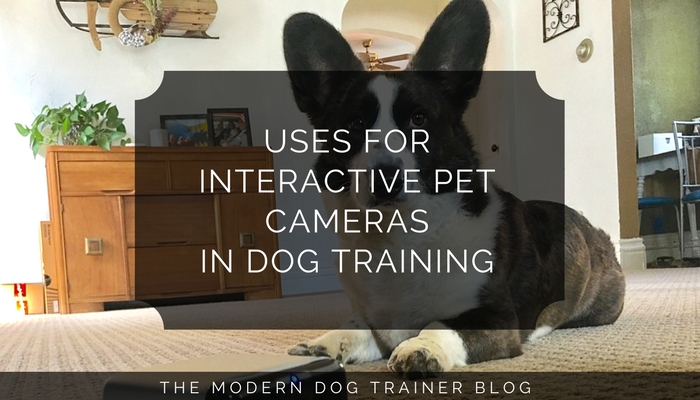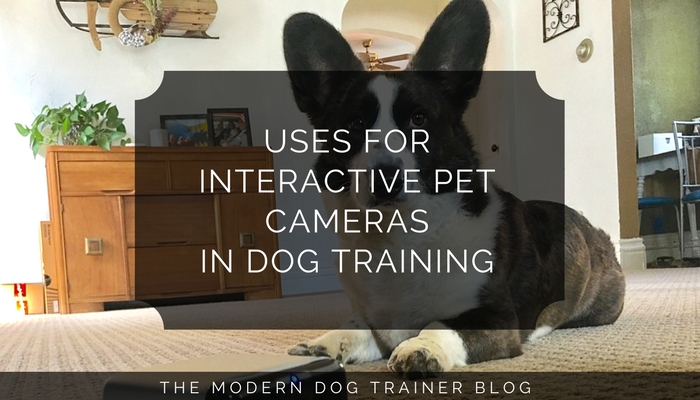 Petcams, like nanny-cams, are the next big thing in the pet industry. Beyond their entertainment value, there are some real reasons to get one and encourage your clients to get one too.
Benefits Of Pet Cameras In Dog Training
At first glance, petcams appear to be mostly for entertainment and for pet owners to talk or view their pets while they're away at work or vacation. However, after having the opportunity to use a petcam for my own dogs, I quickly discovered there were many more reasons to have a petcam, especially as it relates to dog training.
Dog Behavior Observation – You can use a petcam to observe a dog's behavior while the owners are away to screen for separation anxiety, reactivity, or destructive behavior. Getting insights into what the antecedent to a behavior is will drastically help your dog training results.
Marketing Your Dog Training Business – As a dog trainer, you could get a petcam to live-stream your dog training classes online or to live-stream training sessions during a board and train program. Showing customers what goes on behind closed doors builds trust in you and your business to create passionate fans and returning customers.
Interrupting Behavior – Many petcams now allow you to talk to a dog on the other side of the screen. You can use this feature to interrupt barking or other destructive behavior right when it happens, even if no one is home. Of course, interrupting behavior is only a temporary solution and a proper behavior modification plan should be in place, but this could be helpful.
Features To Look For In A Petcam
Sound Detection – One of the benefits of a petcam is to detect when the dog is barking or reacting to outside disturbances. Unless you plan on staring at the petcam every minute while you're away, a petcam that can detect sound can be a really great way to keep tabs on the activity within your or your clients home.
Motion Detection – It can be very helpful to know if a dog is lying calmly throughout the day or pacing repeatedly to determine their level of anxiety while being left alone. Choosing a petcam that can detect not only sound but also motion is key for using one in dog training.
Two-Way Communication  – If you're interested in using a petcam to interrupt behaviors initially, you should look for a camera that has two-way communication. You'll want to be able to hear what noise is going on in the background that may be causing the disturbance and  talk to the dog to redirect their attention. Two-way communication is a key part of using a petcam for dog training.
Wide-Angle View – A wide-angle view allows you to see more of the room. This allows you to see things that the dog might be doing in the corner of the room or see what they're staring at outside.
Live Steaming! – As a professional dog trainer, you could even use a petcam to promote your business and live stream any aspect of your day! You should find a camera that allows you to regularly schedule live broadcasts or at least lets you toggle on or off the live stream option.
Our Experience With The Petcube a Remote Wi-Fi Pet Camera | Pet Monitor System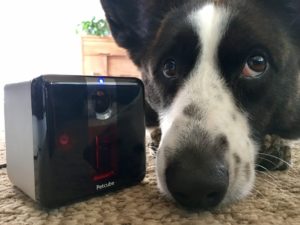 Every once in a while, I get a request from a company to do a product review. I don't accept all products as that isn't the main point of this blog, but sometimes I see a product that interests me and that I think would interest my readers. The Petcube is one of those products I didn't want to pass up and I'm glad I didn't.
(You can get your own Petcube by going through this affiliate link to get $10 off: http://mbsy.co/petcube/TheModernDogTrainer)
The Petcube had more uses and value than I had initially expected. Since I work from home, I don't often leave the house for long periods of time so I hadn't thought about getting a petcam before.
The Petcube was surprisingly small (it's only 3x3ix3 in). It easily fit in the palm of my hand and was stationed on my current entertainment center without being an eye sore. Its design in the shape of a box is both modern and stable so you don't have to worry about knocking it over.
It has 1080p HD video with 138° wide angle view and daytime and automatic nighttime mode so you always have visibility of what's going on. You can choose your own settings for motion detection, sound detection, recording videos or not, notifications of activity, and much more.
The setup was extremely easy and they have a great setup walk through with the app. Everything about the camera is controlled on the app on your Android or iPhone. One thing to note is that since it is app-based, you can't view the video online unless you start a live Facebook stream.
Here's a video from the Petcube showing the quality of the video and the wide-angle view.
Here's another quick video to demonstrate their neat night mode option.
The user interface of the Petcube app is pretty user friendly. Settings can be found in a couple different locations, but I think they are making improvements to that. You can share your camera with their integrated social network.
You can register in the app whether or not you have a Petcube. Once registered, you can also view or interact with other people's pets, not just your own. Thankfully, you have total control over who sees your pets and how they are able to interact with them.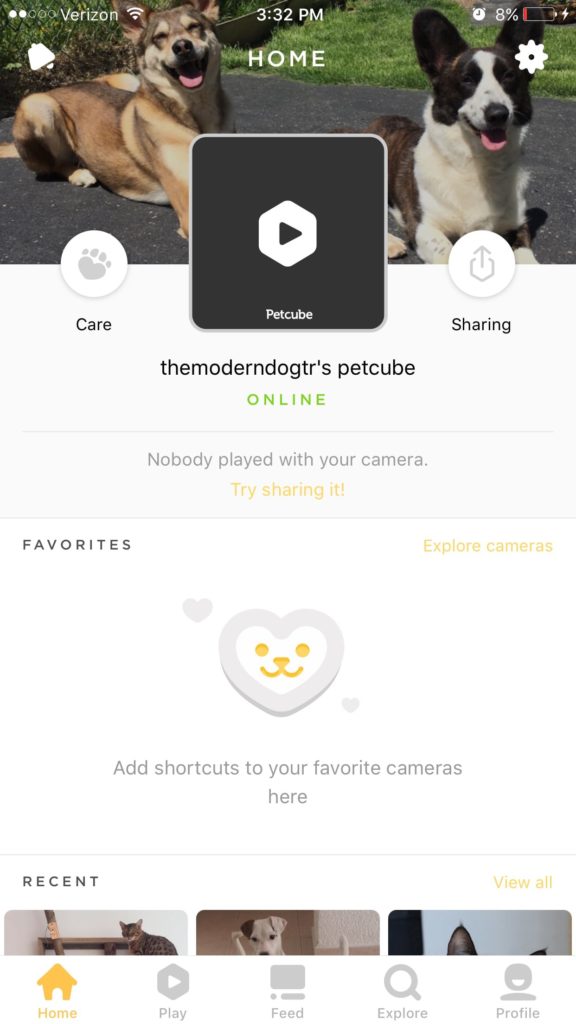 One feature of the Petcube that I wouldn't recommend using is the built-in laser. They included this with the "Petcube Play" version, but as many dog trainers know, dogs can become light sensitive and begin obsessing over lights and lasers.
I tried out the talking feature to see what my dog's reaction would be. They heard my voice, stood up, looked around confused, and whined a bit because they did not understand where my voice was coming from. It was briefly entertaining but I wouldn't continue it because it would increase my dog's anxiety while I'm away which is the opposite of what I want. Additionally, their obedience cues have not been proofed to the point of just hearing the sound of my voice.
Benefits of the Petcube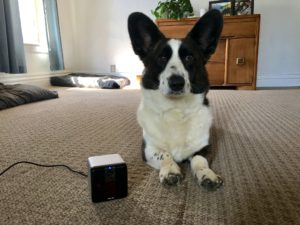 Schedule When You Stream – The Petcube allows you to schedule when you'd like to share the video from your petcam to stream online and you can even stream right to Facebook. As a dog trainer, you could schedule training demonstrations or simply broadcast a group class so that potential customers can see what they're missing out on. This could be a unique, fun way to promote your services to potential clients and stand out from other training facilities.
Motion Detection, Sound Detection & Two-Way Communication – The Petcube and its various settings allow you to keep track of the activity that matters most to you and utilize it in a multitude of ways depending on what you need for training.
Get the Petcube Bites – This upcoming new version of the Petcube offers a treat delivery feature which further increases its value as a dog training tool. With this new feature, it will become a powerful competitor to the PetTutor. The treat delivery itself is unique in that it doesn't simply drop a treat, it tosses it so you can see the dog catch and enjoy the treat.
You can learn more about the Petcube petcams and get your own Petcube by going through this affiliate link to get $10 off: http://mbsy.co/petcube/TheModernDogTrainer
What petcams are you fond of? Leave us a comment below!