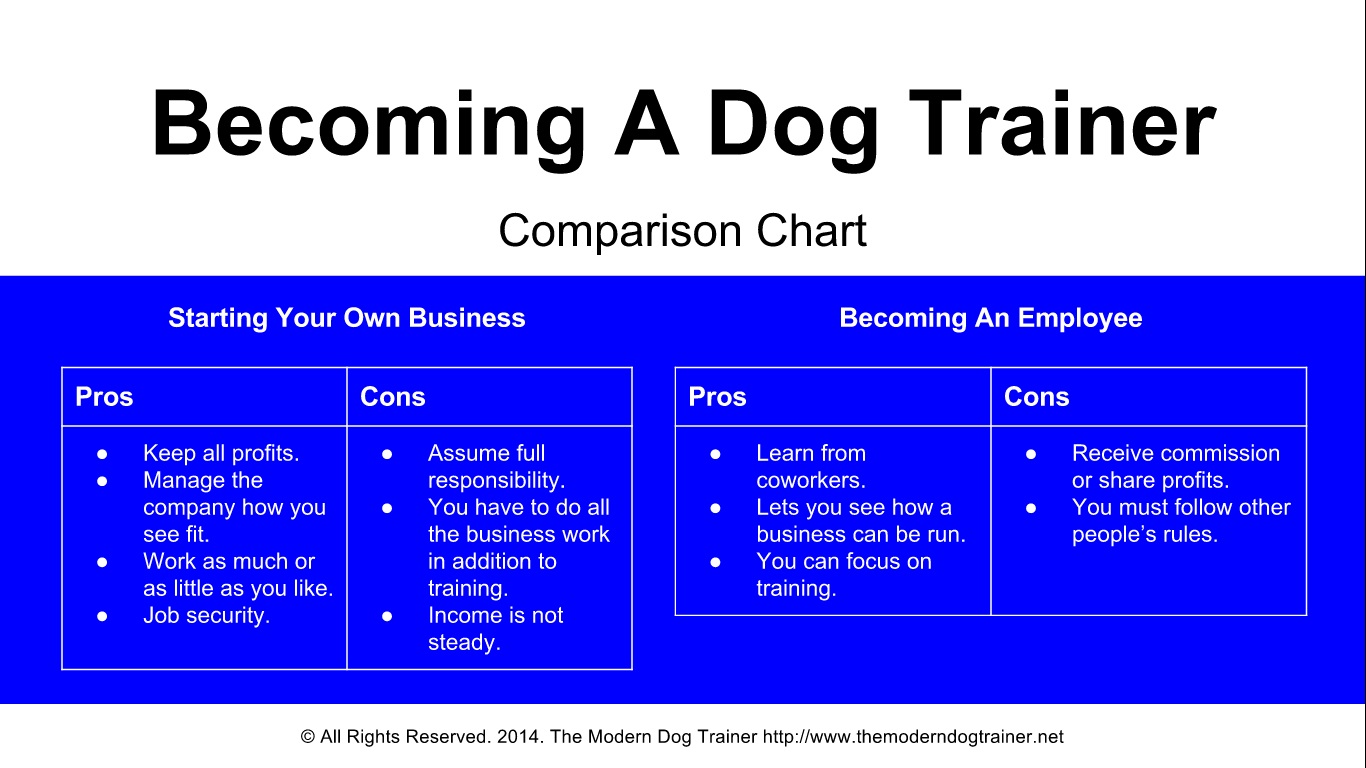 How To Choose Between Starting Your Own Business Or Becoming Someone's Employee
When you are first starting out, it can be difficult to choose between starting your own dog training business or joining someone else's. Ultimately, there are benefits to both.
Start Your Own Business
Many dog trainers choose to start their own business. Having your own business increases your revenue and lets you run the business how you see fit. However, having your own business also comes with more responsibility. You'll need to purchase insurance, get the appropriate business licences, and maybe even start an LLC. The income isn't always steady and you don't have anyone to share the work load with. Fortunately, the job security is great because you are your own boss.
Starting your own business is the best way to make a decent wage as a trainer. It is more of a career path than an hourly or commission based job. However, there are some advantages to starting out with a regular job under someone else's direction.
Get a Job
If you don't know how to run a business, but are eager to get started training, getting a job is a great option. While working for someone else, you'll be able to learn about how the administrative end of running a business looks like and you'll be able to learn from the other trainers in the company. The down side is that you have less freedoms when it comes to working and you will have to survive off of commissions or hourly based pay. Many of the jobs that you will find are entry-level positions such as dog caretaker, kennel tech, or dog walker. Management level positions are quite rare. Getting a job is a great way to get a lot of experience under your belt. We'd like to encourage you to research companies that are willing to reimburse or fund continuing education or certifications.
If you are considering getting started as a dog trainer, check out DogTec's free download, "Going to the Dogs?" There is some great information about what it takes to become a dog trainer.
Would you prefer to start your own business or join someone else's company? 
Recommended Article by The Modern Dog Trainer