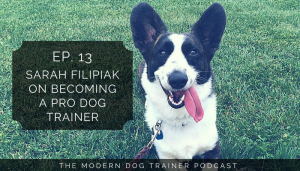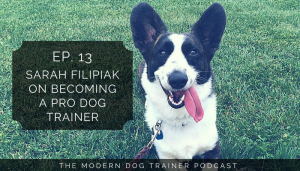 Sarah Filipiak, Certified Dog Behavior Consultant, is a skilled professional dog behavior expert and has now turned to helping others become professional dog trainers. On today's podcast, she talks to us about what it takes to be a true "professional" in the dog training industry. She's started her own online "Becoming a Pro Dog Trainer" course, beginning May 22nd, to help other dog trainers starting out or improve their practice as dog trainers. (Should you click the link and purchase the course, The Modern Dog Trainer will make a small commission. These commissions help us maintain our website, Facebook groups, and keep more materials available for free.)
Subscribe to The Modern Dog Trainer Podcast on SoundCloud or iTunes. Follow The Modern Dog Trainer Blog on Twitter at @ModernTrainer, on Facebook at The Modern Dog Trainer Blog Page, and on Instagram at @TheModernDogTrainerBlog. Don't forget to join our FREE Facebook Group, "Startup Tips for Modern Dog Trainers." We love hearing from our listeners!
Please leave us a review on iTunes to help support our podcast!
Show Notes