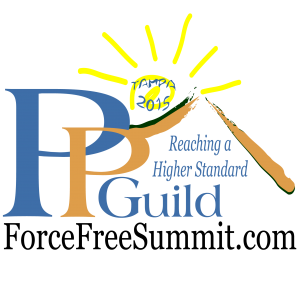 The Pet Professional Guild's (PPG) inaugural educational convention is taking place in Tampa, Florida on November 11-13, 2015. Professional dog trainers with a strong conviction in their belief in force-free dog training will gather to learn about science-based training.
The PPG hopes to build greater awareness about the organization and increase collaboration between colleagues. Savvy pet owners are also encouraged to attend to learn about animal training methods that build communication between owner and animal. Veterinarians who attend will have networking opportunities and learn about force-free animal handling techniques.
The PPG has stood as one of the only organizations that strongly reject the notion of using force in any way to control and train animals. They widely advertise the fall out that shock, choke, fear-inducing, and force-full methods can create. As advocates for training methods, they encourage the use of techniques that motivate animals using positive reinforcement without any use of intimidation.
The Worlds Very First Force-Free Summit
The PPG's Force-Free Summit is the very first of its kind.  Aside from the fact that all content will cover force-free and science-based animal training methods, the Summit will include a variety of educational and entertaining events for all members of the dog and pet industry.
"We can guarantee that our first-ever Force-Free Summit will be a milestone as far as advocating for force-free, positive training techniques is concerned," said Niki Tudge, PPG president. "We can also guarantee a highly interactive and fun format for all who attend. We have placed a huge emphasis on formulating an educational event that offers a combination of lectures and working LABS, where industry professionals will have the opportunity to work with their pets under the guidance of a highly skilled mentor."
The PPG Summit will feature more than 26 presenters over its three-day duration, and promises an enticing line-up of speakers and subject matter. World-renowned vet, applied animal behaviorist and author, Dr. Karen Overall, will deliver the keynote address, an unmissable presentation that will cover topics such as the canine brain, the neurobiology of reactivity and stress, assessing behavior and redefining humane behavioral care.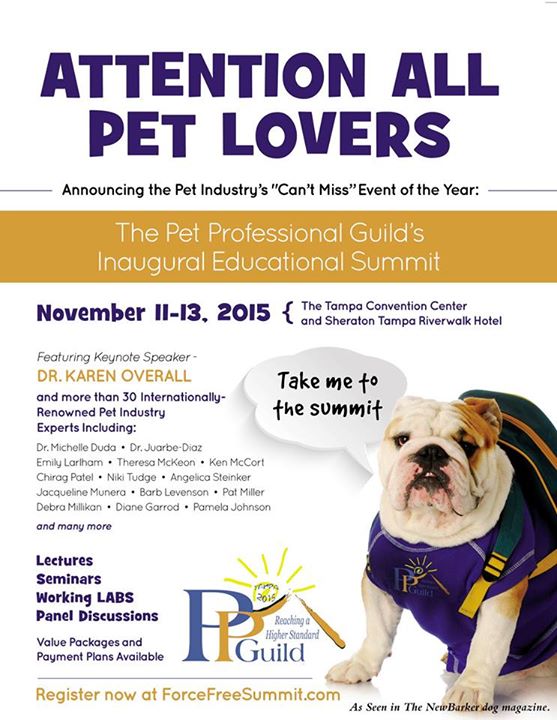 Other speakers at Summit 2015 include a who's who of behavior and training professionals:
Dr. Michelle Duda,
Dr. Soraya Juarbe-Diaz,
Chirag Patel,
Ken McCort,
Jacqueline Munera,
Pamela Johnson,
Theresa McKeon,
Emily Larlham,
Pat Miller,
Nancy Tucker
Laurie Schlossnagle (Our very own Modern Dog Trainer Blog contributor!!!)
and many more, all of whom will contribute with lectures, working LABS, or smaller, more intimate, interactive sessions
This conference is sure to make some waves throughout the dog training industry. We look forward to hearing from Laurie about her experience as a presenter and attendee. She'll be posting updates on The Modern Dog Trainer blog about the lectures, networking events, and accommodations so stay tuned!
Registrations for Summit 2015 are still open, with just a few spots left. Various packages are available to ensure delegates have a range of convention experiences and payment options to choose from. Continuing education units are available for PPAB, IAABC, CCPDT, KPA and PPG. For more information, see Force-free-Summit.
PPG Summit Updates
Laurie attended the PPG Summit as a speaker and as an attendee. Read about her experiences in these posts:
Get Dog Training Business Tips!
Receive valuable dog training business tips and resources every week! Subscribe to The Modern Dog Trainer now by submitting your name and email below.
[mc4wp_form]