Today we invited Rachel Golub, CDBC, CPDT-KA of San Diego Animal Training. Her and her husband juggle a flourishing animal training business with a boarding facility and two small children. We discuss how she does it, why she chose to open a facility, how she increases compliance with her clients, and more!
Subscribe to The Modern Dog Trainer Podcast on SoundCloud or iTunes. Follow The Modern Dog Trainer Blog on Twitter at @ModernTrainer, on Facebook at The Modern Dog Trainer Blog Page, and on Instagram at @TheModernDogTrainerBlog. We love hearing from our listeners!
Please leave us a review on iTunes to help support our podcast!
Show Notes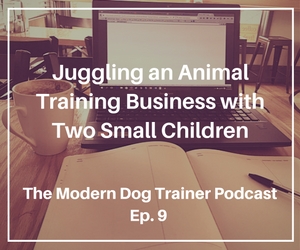 Rachel was kind enough to share some tips for managing clients, children, and a business. It was incredibly helpful to learn about why she chose to pursue multiple certifications, refers clients out and receives clients from a powerful network of trainers in her area, and how she increases client compliance for her aggression cases.
The certifications that Rachel mentions are:
Dog Training Business Tips
Receive valuable dog training business tips and resources right in your inbox! Subscribe to The Modern Dog Trainer now by submitting your name and email below. Don't forget to let us know what you want to learn more about!
[mc4wp_form]