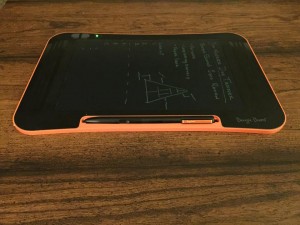 As a dog trainer, there are a lot of things we will need to take notes for, whether it is a new idea for a class or notes for each of our clients. Dog trainers can go through a lot of paper. A lot of modern dog trainers are now trying to go paperless in the new year, but still struggle with how to take their notes. Computers can be bulky, tablets can be expensive. Some trainers do not type well, but using a stylus on a tablet is not always accurate. What is a dog trainer supposed to do? Let me introduce you to the Boogie Board Sync 9.7.
The Boogie Board Sync is a 9.7″ ewriter that is less than 1/8″ thick. The screen is LCD that can be written on without power, however must be turned on to erase. The stylus is extremely accurate and is just like writing on paper. Now what makes the Boogie Board Sync 9.7 more than just a notepad?
The Boogie Board Sync 9.7 can be synced through Bluetooth to your phone or computer and the notes transferred instantly onto your computer or phone. Your pages can be saved into separate notebooks or they can be saved to your computer as a PDF. Pages can also be saved internally on the Boogie Board until you can transfer them to a computer or phone. Pages cannot, however, be brought back up on the e-writer once you have saved and erased them.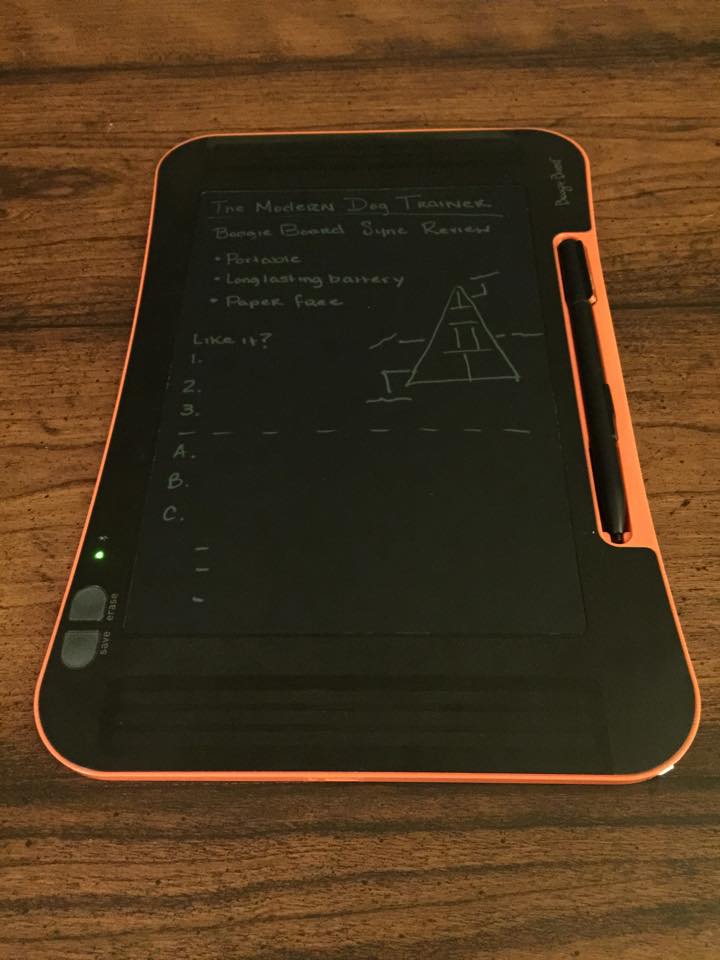 The Boogie Board Sync 9.7 has an erase button, a save button, an on/off button, and a place to store your stylus. The internal battery is charged through a mini USB port. A charge under normal use will last about five days.
Writing on the Boogie Board is like writing with a pen, you cannot erase certain marks as the erase button erases the whole page. This is something to keep in mind before you purchase a Boogie Board. The app for the Boogie Board has recently updated so you can edit a Boogie Board page through the app. You can also create shortcuts to automatically sort your Boogie Board pages to certain notebooks in the Sync app.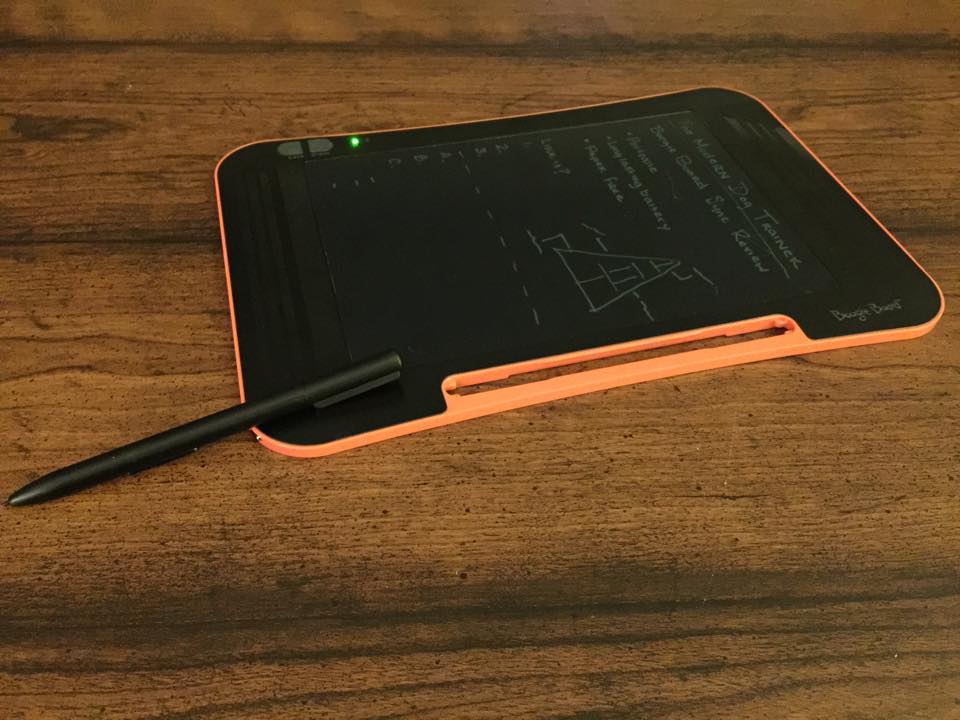 Some extra perks that people can utilize:
Boogie Board has a real-time function with a phone or computer, allowing whatever you write on the Boogie Board to instantly show up on the phone or computer screen. This can be good for presentations or projects. You can still see the writing on the Boogie Board so you are not having to look at one screen while writing on another.
Boogie Board can sync automatically to Evernote, which is a program growing in popularity with dog trainers.
The Boogie Board can also sync with e-mail and social media almost instantly to share your notes.
Some issues that people may have a problem with include:
The contrast of the screen. While I have not run into any issues with it, the screen is black and the writing is a green color. I could see this being an issue with someone who does not have good eye sight.
Some people do not realize before they purchase a Boogie Board that you cannot erase certain parts of the screen, it is all or nothing.
Some people do not realize before they purchase a Boogie Board that you cannot bring back a saved page on the actual Boogie Board, this would have to be done through the app.
The Boogie Board Sync 9.7 retails for around $80.99. The Boogie Board is available for purchase at local stores such as Best Buy, Costco, and Kohl's, and also online at sites such as Amazon. If you're interested in going paperless this year, but do not have the money to purchase an expensive tablet, the Boogie Board Sync 9.7 is a cost conscious alternative that you will not be disappointed in.
Get Dog Training Business Tips!
Receive valuable dog training business tips and resources every week! Subscribe to The Modern Dog Trainer now by submitting your name and email below.
[mc4wp_form]