In this podcast we invited Helix Fairweather, KPA instructor and creator of CyberDog, to talk about building online dog training courses.
Subscribe to The Modern Dog Trainer Podcast on SoundCloud or iTunes. Follow The Modern Dog Trainer Blog on Twitter at @ModernTrainer, on Facebook at The Modern Dog Trainer Blog Page, and on Instagram at @TheModernDogTrainerBlog. We love hearing from our listeners! Please leave us a review on iTunes to help support our podcast!
Building Online Dog Training Courses with Helix Fairweather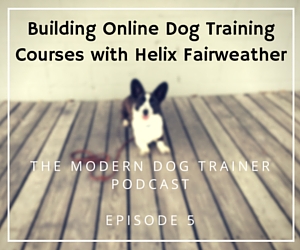 Helix Fairweather teaches dog training classes remotely with the help of email and webinar software. Listen to this podcast to learn more about how she teaches classes online successfully.
As mentioned in the podcast, be sure to check out her online Start Smart course for owners and dog trainers.
Reach out to her at HelixFairweather at gmail. com if you'd like speak with her directly.