Molly Sumridge came on the show today to discuss how compassion fatigue is affecting thousands of pet professionals who give their heart and soul into their profession and forget to take care of themselves. She explains how it's different than burn out and how it may be happening without you even knowing.
If you enjoy this podcast, please subscribe to The Modern Dog Trainer Podcast on SoundCloud or iTunes. Follow The Modern Dog Trainer Blog on Twitter at @ModernTrainer, on Facebook at The Modern Dog Trainer Blog Page, and on Instagram at @TheModernDogTrainerBlog. We love hearing from our listeners!
Please leave us a review on iTunes to help support our podcast! Every review helps boost our podcast in the ranks of iTunes.

Show Notes
"Compassion Fatigue is a state experienced by those helping people or animals in distress; it is an extreme state of tension and preoccupation with the suffering of those being helped to the degree that it can create a secondary traumatic stress for the helper." Dr. Charles Figley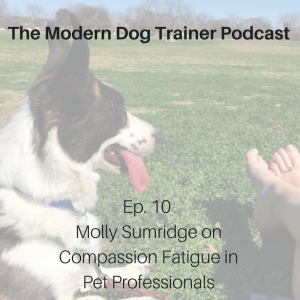 Tips for preventing compassion fatigue:
Mindfulness training
Resilience training
Positive thinking
Gratitude
Meditation
Breathing
What to do if you're struggling right now:
Suicide Hotline 1-800-273-8255
Be proactive and help yourself online:
Dog Training Business Tips
Receive valuable dog training business tips and resources right in your inbox! Subscribe to The Modern Dog Trainer now by submitting your name and email below. Don't forget to let us know what you want to learn more about!
[mc4wp_form id="2494″]