Mistakes You're Making When Marketing Your Dog Training Business
1. You Pay for Yelp Ads
I'm pretty sure that every business owner in North America has received calls from Yelp to advertise. At first, its seems like a great option because potential customers often check Yelp reviews before calling you. For dog trainers, however, you're better off spending your marketing budget on Google rather than Yelp.
From my experience, people visiting Yelp already have a trainer in mind and are looking at their reviews for confirmation. On Yelp, your ads may cost more and may not be as targeted as they could be on Google Adwords. Additionally, as Google has introduced their own review systems, Yelp has seen a decline in search rankings within Google.
Yelp is not to be neglected, however. Ensuring you have consistent, positive reviews will encourage potential customers who are doing their research to decide on your business to satisfy their needs. Always remind current and past clients to leave their reviews there or on your Google business page.
Recommended Reading: Why You Should Do Some Market Research Before Starting Your Dog Training Business
2. You Have a Website, But Don't Know How It Performs in Google
This is common among dog trainers. We all know a website is important, but many don't quite realize why they're important. Your website isn't just a place for potential customers to learn about you before hiring you. Your website is critical to your business's success. A dog trainer's website should have a professional feel and should work to get you new clients by getting indexed by Google, showing potential clients your expertise, demonstrating to clients how you can help them in their situation, and making it easy to reach out to you.
If your website is not connected to Google Analytics, you're missing out on a lot of intelligence about how people navigate to and through your website. If you think you're all set because you have a website, you're missing the point of having one in the first place.
An established website should provide you with a wealth of information about your potential clients and is critical to long-term, consistent success as a dog trainer. Your website is one of the best ways prospective clients can find out about you.
3. You're Considering Paying for Facebook Ads
There's a right way and a wrong way to advertise on Facebook. If you're looking to build awareness of your brand or an upcoming event, Facebook is a great way to promote those. However, if you're trying to fill up a group class by the end of the month, you're better off advertising on Google which is where people intend to make purchasing decisions.
4. You're Hoping that Business Cards at a Local Shop Will Generate Interest
If you leave anything at a store in hopes to generate interest in your services, think about what the customer might be interested in reading about. Based on the visitor's reason for visiting the store and the services you offer, make a flyer, brochure, or hand out that mixes the two together.
Let's use a pet store for an example. Customers visiting the pet store are most likely there to purchase dog food or dog toys. In this instance, I'd recommend a handout on dog nutrition, best toys to keep dogs busy, or even the benefits of food puzzle toys for dogs. With a catchy title and engaging images, your handout will attract readers. The information you share will demonstrate your knowledge and you'll have provided value to the reader. The goal is that the reader will think of you the next time they have a training related question. A simple business card just doesn't cut it anymore.
5. Avoiding Google Adwords Because You're Scared to Spend Too Much Money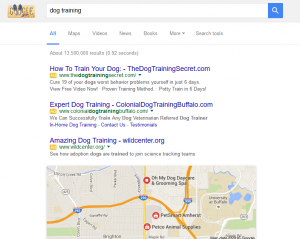 Don't get me wrong, that is a legitimate concern. Google Adwords can easily take your money and run with it, but being scared of Adwords is not a good excuse. Many successful dog trainers, if not most, use Google Adwords to consistently fill their classes and schedule with new clients. Learning how to target audiences strategically can save you money and bring you new clients on a regular basis. It is definitely worth the time investment to learn how to use Google Adwords if you want to have a successful dog training business.
6. Your Website Doesn't Have a Purpose or Goal
You know your website is where potential customers go to learn about you. However, have you thought about:
Is your website easy to navigate?
Can visitors easily contact you from every page?
Does your website load quickly on all devices?
Does your site acknowledge your visitor's concerns, situation, or objections?
If you've forgotten to ask these questions, your website isn't doing as well as it could be.
7. You're Forgetting About Your Current or Past Customers
Current or past customers are your greatest resources. It is easier to market to current or past customers than finding new customers. If you don't have an option for recurring services for your clients, you're missing out on a huge opportunity and you're leaving your clients hanging without continued support. Chances are you have several customers who would love an opportunity to continue working with you if you gave them the option.
Ideally, you'll want to start an email newsletter to keep customers engaged and share new services. Additionally, you want to be top of their mind when their friends mention dog behavior struggles, right?
8. You're Advertising, Not Marketing
Raise your hand if you like ads online, on TV, or on the radio.
Don't interrupt people's lives with pushy advertising. Enough said.
(Check out this eBook on Facebook Marketing Strategies to get the most out of that platform.)
9. You're Not Demonstrating Your Expertise
A key component to marketing your dog training business is demonstrating your ability to satisfy customers. Testimonials and case studies with images and videos can be impactful. Watching a video testimonial can help someone who's on the fence about calling you make the decision to reach out.
You can spend a great deal in marketing, but testimonials and case studies can truly seal the deal and help you get new clients. Detailed and structured case studies can be distributed along with other marketing materials to local veterinarians to demonstrate your professionalism and expertise.
10. You Don't Realize Why People Hire Dog Trainers
What truly drives people to contact a dog trainer? Their dog's behavior? Nope.
People reach out to dog trainers because their quality of life is suffering. They don't want to give up on their dog, but they also know they don't want to continue living the way they are now. Your messaging should address how you're planning on relieving them of stress, anxiety, and improving their quality of life. It isn't enough to spout out a message about positive dog training, you must make them confident in your ability to improve their current situation.
Digital Marketing Solutions for Dog Trainers
Digital marketing isn't a gimmick. I work with professional and amateur dog trainers to bring their businesses up to speed with the goal of generating consistent income. As a dog trainer myself, I've experienced the ups and downs of seasonal clientele. I've learned digital marketing solutions the hard way and now I'm helping other dog trainers grow their businesses, too.
Let's see how we can grow your dog training business to the next level. Whether you're going from part-time to full-time or simply want to get new clients more consistently each month, you can benefit from a course I'm working on.
Check out the courses I'm producing to help dog trainers start and grow their businesses.