Marketing your business can be daunting, but it doesn't have to be.
Word of mouth is a great way to get more business, but that can take a while to grow. Marketing is the quickest way to build clientele. Most dog trainers lack a background in marketing, and may be intimidated by the process. Here are 3 easy ways to market your new dog training business that you can implement today.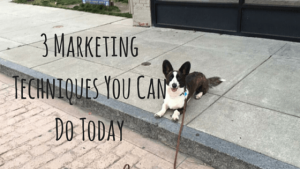 1. Make information packets for local veterinarians, dog walkers, and groomers.
Get in touch with other local animal professionals and start a referral system. Many people ask their vets, groomers, and walkers for a local dog trainer recommendation. Put together folders with tips that dog owners could find valuable, some information on your modern training techniques, and how to get in touch with your business. Don't forget to include business cards for their lobby!
2. Start a business newsletter or write for a local newspaper.
Keeping your clients up to date on training information and what you are offering will make them more likely to come back. Start a newsletter that you e-mail to subscribers and past clients to keep them in the loop. Writing for a local newspaper or magazine will get your name out there and showcase your knowledge, which will make you more appealing to potential clients.
3. Get a table at your local event.
Many communities have local events that vendors can buy a space or even attend for free. Set up a table with some information of your business and training techniques and a small give-a-way to bring people to your table. Some events you can look for include craft shows, rescue events, and city rec center events.
With a little bit of work, these three marketing techniques can be an easy way to get your name into the community. There are plenty of marketing ideas out there, what are some other easy ways to get your name into the community?
Recommended Articles