If there is one thing all dog trainers love, it's their equipment! From collars to treats, dog trainers can obsess over many things. The line between owner and dog is something that takes many forms. Not only do leashes look different, they also serve different purposes. The following leashes have a special place in dog training.
1. Long Lines
Long lines are very important in dog training because we always want to set our clients up for success. Long lines are utilized during recall or off leash training when we want to ensure the dogs will come back to us when they are called. Lighter weight long lines can be a stepping stone to off leash work. Materials used for long lines include nylon, rope, biothane, and leather. Nylon and rope are lighter and cheaper, while biothane and leather are a sturdier, but more expensive option. Biothane is also waterproof, which can be beneficial in long lines since they drag the ground.
2. Waist Leashes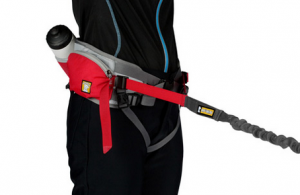 Waist leashes are good for your clients who continually 'check' their dogs with the leash or clients with dogs who are very strong. If your clients cannot break their habit of checking their dogs or keeping a tight leash, using a waist leash will keep them from steering their dogs. Waist leashes are also good for clients with strong dogs because it allows your client to use their whole body to steady their dog instead of being pulled off-balance with their arms. Waist leashes that I, or very close colleagues, have tested include the Ruffwear Omnijore Hipbelt and the Dog-Safe Hands-Free leash.
3. Double Hook/European Leashes
Double hook leashes are good for clients who do many different things with their dogs like hiking, dog sports, or leisure walking. These leashes have two snaps at either end of the line, with or without a handle. Different examples would be the 2 Hounds Freedom Harness Double Hook leash. This leash allows you to utilize both snaps on the Freedom No-Pull Harness. You can also attach both hooks to one ring to make a shorter leash, or you can attach only one hook for a longer line. Another double hook leash is the police lead or the TTouch leash. They are usually leather or biothane and have two hooks and a few o-rings on the leash. You can make it a shorter or longer lead or use it over your shoulder (so it hits across the chest like a seatbelt) to become a hands free leash. There are many makers of these leashes, but I would recommend a well-known leather or biothane crafter, such as Paco, Ella's Lead, TTouch Leash, or Karma.
4. Bungee Leashes

Bungee leashes are exactly what they sound like. These leashes have a bungee portion that absorbs shock. These are good for your clients with dogs who are heavy pullers. They absorb the shock when the dog bolts out and reduces the amount of jerk that makes it to your client. While your clients are training with their dogs, these may be a good idea in case an accident occurs. A bungee leash that I have personally used with success is the Ruffwear Roamer leash. The nice thing about this leash is that it can also be used as a waist leash!
5. Obedience Tabs
Just like with long lines, obedience tabs can be used when perfecting off leash work without the leash in the way. These are very short leashes that can be attached to the collar and left to hang there when not held. They are short enough that they do not impede the dog's legs or paws, but a good safety back up to have in case your client needs to quickly grab their dog. These come in many sizes and material such as nylon, rope, leather, and biothane.
These five types of leashes all serve different purposes in dog training from lessening the amount of strength an owner needs, to advanced obedience work. What is your favorite leash and what purpose does it serve in dog training? Do you prefer one material over the other? Why?
Get Dog Training Business Tips!
Receive valuable dog training business tips and resources every week! Subscribe to The Modern Dog Trainer now by submitting your name and email below.
[mc4wp_form]