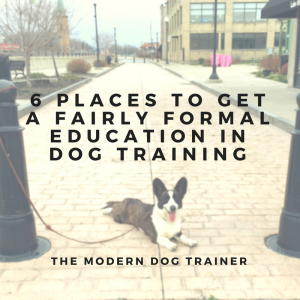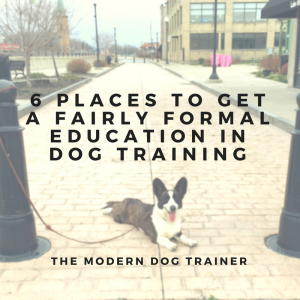 With so many different resources about how to become a dog trainer out there, it is difficult to pick which program is going to provide you with a quality, up-to-date education on dog training. Below I'm listing a few programs that I've either taken myself or have had trusted friends take and enjoy. These programs will teach you how to train dogs with lessons on the science of animal learning and training.
If you already know how to train dogs, but you're interested in a course that will teach you how to run a successful dog training business, check out my 12-week Start Your Own Dog Training Business Course.
Have a favorite program you'd like to add to the list? Leave it in the comments section below!
---
In 1999, Jean Donaldson founded the Academy for Dog Trainers. Jean Donaldson's book, The Culture Clash, was ranked #1 for training and behavior by The Association of Pet Dog Trainers. This school for dog trainers is one of the most highly acclaimed schools out there for professional dog trainers.  The Academy for Dog Trainers now has many instructors including several world renowned dog behavior experts.
The Academy is virtual so you can take the courses from anywhere with a laptop. They include weekly webinars and discussions to further develop a sense of community and utilize video coaching to practice training mechanics. If you're interested in getting a thorough dog training education from the ground up, this is a great choice.
I took this course a few years ago and I would deem this as an absolute necessity for all animal trainers as it dives into the basic principles of learning theory, applied behavior analysis, and science-based animal training. This course is college-level and has a great online community forum to discuss ideas and work through the program.
Homework is assigned out weekly and the short-answer format allows you to explain your logic behind your answers. The instructor's assistant then evaluates your answer and gives you a few more possibilities or scenarios to think about. In the end, you take a short answer exam that brings together all the information you learned in the course. I have no doubt that this single course contributed greatly to my ability to handle and understand animal behavior issues. This is truly a great critical thinking course that all animal trainers should take.
Or more specifically, the Animal Behavior Consulting Principles & Practice is a great place for you to get a comprehensive overview of what it takes to take on behavior cases. You start with the basics of animal learning, applied behavior analysis, and what it means to be an animal behavior consultant.
"The IAABC Animal Behavior Consulting Principles & Practice Course is a unique twelve-week, multi-module course providing a comprehensive overview of the many facets of animal behavior consulting for all species." You'll learn from several different instructors, all of which are well-respected as experts within our industry, throughout the course which allows you to grasp different perspectives on animal behavior as you go through it.
Be sure to let them know The Modern Dog Trainer sent you on the form if you register.
The Karen Pryor Academy or KPA is extremely well-known in the dog training industry. They are the go-to experts for clicker training around the world. As a participant, you're also provided with marketing materials and lesson plans to help your dog training business get off the ground.
This course sticks to clicker training foundations and advanced level skills. Something to keep in mind is that while I love applying clicker training concepts to address and change a dog's emotional state for behavior issues such as reactivity, this is something I learned from mentors and isn't something that is taught in the academy.
If you're considering training service dogs, training trick dogs, or sticking to basic obedience training, their Dog Trainer Professional Program is definitely a great course to take.
The Victoria Stilwell Academy teaches dog training foundations as well as how to manage and communicate with clients and run a successful business. VSA's Dog Trainer Course requires two trips for "intensives" where you'll test out your new training knowledge and skills under the supervision of instructors and mentors. This course only occurs a couple times a year, but is hosted in the USA and the UK.
You can see starting course dates and learn more about her program here.
Sarah's new 6-week online course walks you through the core principles of professional dog training. She teaches the foundations you'll need to know to train dogs. You'll also learn about dog body language and how to choose which training technique based on the dog in front of you. This course comes with a 6-week dog training course curriculum you can start using immediately and several handouts.
Have a favorite program you'd like to add to the list? Leave it in the comments section below!
---
Looking into starting your own dog training business? Grab our free eBook, "10 Common Mistakes New Dog Trainers Make With Their Businesses."
If you're thinking about starting your own dog training business, take advantage of this free eBook to avoid some detrimental mistakes that many dog trainers make.
Are you spending your time on the right tasks to grow your business? Are you worried about making continuous income throughout the year? Will your business be sustainable for years to come? Prepare yourself with the help of this eBook!