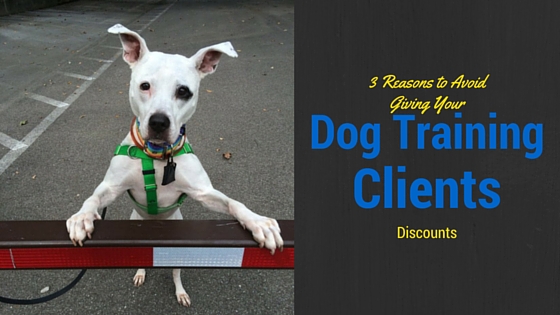 As small business owners, we're always looking to acquire new dog training clients. Discounts are a popular option that we think you'd better avoid.
1. Dog Training Clients Who Compare Prices Are Not The Right Clients For You
In reality, clients who are looking for the cheapest trainer in town are not looking for the most qualified and skilled dog trainer. You're better off focusing your energy trying to get clients who will value your time and qualifications. If you're looking to give back to the community, limit your free or discounted lessons to one or two lessons a week for those in need, but don't make it the norm for all your clients. Consider creating a scholarship program for those that need your help, but cannot afford it immediately. This will weed out people who are just looking for a quick bargain and you'll find some truly dedicated clients who simply can't afford your usual price.
2. It Is Very Hard To Wean Customers Off Discounts
Once they've had a taste of your services at a discount, it can be difficult for clients to adjust to higher prices. They may continue to ask for discounts for one reason or another. This conflict could drain your energy and it may damage the relationship between you two.
3. Cutting Your Own Profit Margins
When we give discounts as dog trainers and small business owners, we're emptying our own pockets. Discounts cut the profit margins and they devalue the product or service a client purchases. Unfortunately, the client is less likely to follow through with training plans and are less likely to sign up for full-priced services in the future.
Fortunately, there are hundreds of alternative ways to attract new clients.
The Best Alternative To Discounts
There is a simple alternative to offering discounts for your services. Consider providing add-ons for "free" so that the client perceives that they are getting a better deal by getting additional products or services. This way you can maintain your desired income and they are getting a great deal. It's a win-win for both sides of the client-trainer relationship.
What are some ways you attract new clients? Leave your ideas in the comments below!
Get Dog Training Business Tips!
Receive valuable dog training business tips and resources every week! Subscribe to The Modern Dog Trainer now by submitting your name and email below.
[mc4wp_form]