After thorough surveying throughout online communities, we discovered the five most popular dog harnesses for training.
The first three harnesses are front attachment harnesses which have a ring on the back across the shoulders and another ring in the middle of the chest piece of the harness.  A double ended leash can be attached to one or both rings.  This gives handlers better control of the dog, so when a dog pulls he is turned sideways which reduces or prevents pulling.
Some trainers say that this is the best harness they have used since they like the 2 stainless steel rings. This harness is also very adjustable so it fits well and the chest strap is lined with velvet, which helps prevent rubbing and chaffing. It has a control loop on the back of the harness, which tightens gently around the dog's chest to discourage pulling. Some trainers don't like this martingale effect though. 2 Hounds Design is the exclusive manufacturer of the Freedom Harness and is made in the USA.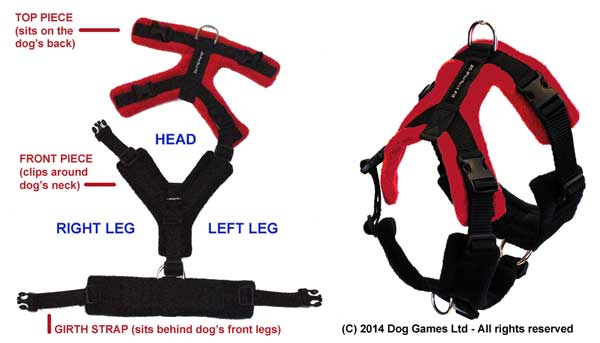 This is another highly recommended harness, which was invented and made in the UK.  It has three pieces – top, front and girth which clips together and can be swapped out so that any combination of size or colors can be used. What is also nice is the high quality soft, washable fleece padding which helps prevent rubs from the webbing straps.  Another great feature is that this harness can be customized to fit front legged amputee dogs.

Made in Great Britain, this is another 2 point harness, (chest & back) which is adjustable within the size range and comes in a variety of colors and a padded double ended lead. Some people think that the vertical strap behind the front legs is a little too close to the front legs/elbows though.

This harness is different from the three above in that it is a side attachment harness and comes with a protective sleeve for tummy strap, a leash and instructional DVD. When the dog pulls forward it is guided round to face you.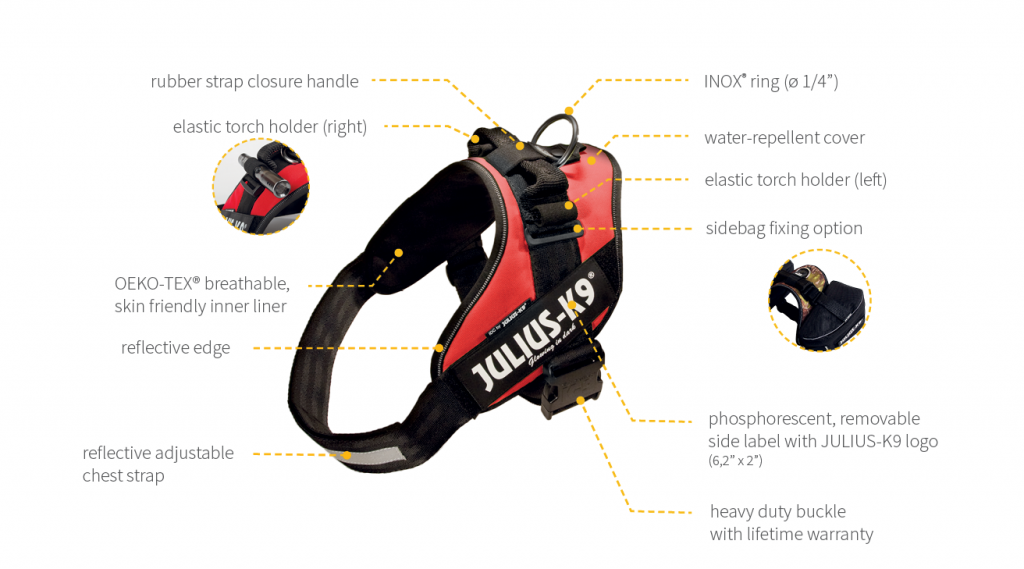 This harness is made by a company which specializes in high-end Schutzhund products.  The Julius-K9 IDC Powerharness comes in lots of colors and adjustable sizes.  It is well-known for it s comfort, fit and quality.  There is a neat handle on top which can be used to lift dogs.  The chest belt, edges and the Julius-K9 tags are reflective.  There is also a loop on the top to attach a mini flashlight for those walks at night.
Whatever you choose, make sure the harness fits the dog properly and does not restrict his movement, rub or chaff him. Harnesses are a better option than a regular collar because it won't damage a dog's throat when he pulls. But the best way to get a dog to stop pulling is to train him using force-free loose leash walking training techniques.
What is your favorite harness and why?