My affiliate disclaimer applies to this post.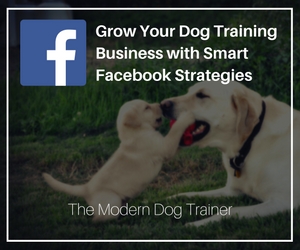 It's not a secret that dog trainers spend a lot of time on social media. Why not optimize your time on Facebook to grow your business?
Facebook is a powerful platform for sharing your message and reaching new, potential clients. These strategies can help you grow your audience and make the most of your time on social media to turn "Likes" into customers!
Set a Clear Goal for Each Post
Do you want people to simply like it and move on? Do you want viewers to read the article and sign up for something? Is the article on your website set up with a email sign up form to capture the emails of people that are interested in what you have to offer?
These are simple inbound marketing questions that you should ask anytime you post on social media. What action do you want the reader to take? Posting for the sake of posting means you're missing the whole point of social media for marketing your business.
Use action words to encourage interactions like likes, comments, or shares. Ask thought-provoking questions to get readers to open the link and read your articles. Get creative, but make sure every post will contribute to your overall goals to grow your dog training business.
Related: Smart Facebook Marketing Strategies eBook by Brittany Ann
Use a Tracking Pixel on Your Website
By copying and pasting the Facebook tracking pixel code to your website, you'll be able to target people who have visited your website with any future advertising or promotions you want to run. People who visit your website could be your current customers AND potential clients that haven't committed to hiring a dog trainer yet.
You can use the Facebook Pixel to stay in touch with these people over a few weeks and stay top-of-mind for whenever they're ready to hire a dog trainer.
Promote Posts Strategically
Facebook's always urging you to (financially) promote your posts so that you can reach a bigger audience. Promoting posts isn't a bad idea, but you have to do it at the right time. Ideally, you should wait until a post already has some likes, comments, or shares because your money will go reach a bigger audience and when people see it being promoted it looks like it's already popular. Promoting a post that hasn't already gotten a few likes or comments won't look very enticing to a larger audience.
Even More Facebook Marketing Tips for Dog Trainers
Looking to grow your Facebook page quickly and increase your reach to fill up your dog training appointment schedule? You'll definitely want to check out the eBook, "Strategies Worth Sharing" on Facebook marketing by Brittany Ann.
"With over 70 pages of no-fluff, no-nonsense strategy in the book alone, these are the tricks you've been missing!"
Brittany Ann explains many different techniques you can use to improve your Facebook page's performance to grow your Facebook audience and generate new clients from your use of social media.
When leveraged correctly, Facebook can be just as powerful as Google for growing your client base. Unfortunately, many dog trainers waste a lot of money promoting posts that won't give them a return on their investment. With this eBook, you can be confident you're spending time on tactics that will actually make a difference to your dog training business' bottom line.
See a detailed outline of this eBook and order your copy here. It's extremely affordable ($20!) considering the potential reach and growth Facebook could provide your business in 2017!
---
Dog Training Business Tips
Receive valuable dog training business tips and resources right in your inbox! Subscribe to The Modern Dog Trainer now by submitting your name and email below. Don't forget to let us know what you want to learn more about!
[mc4wp_form id="2494″]