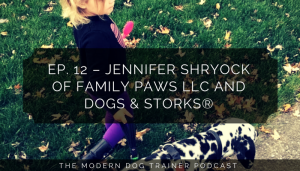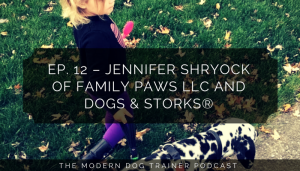 is the dog training industry's go-to expert when it comes to families, children, and dogs. We were really excited to have her on our show this month to discuss how she got this expertise and share with us how working with babies and children as a dog trainer can be challenging, but extremely rewarding.
Subscribe to The Modern Dog Trainer Podcast on SoundCloud or iTunes. Follow The Modern Dog Trainer Blog on Twitter at @ModernTrainer, on Facebook at The Modern Dog Trainer Blog Page, and on Instagram at @TheModernDogTrainerBlog. We love hearing from our listeners!
Please leave us a review on iTunes to help support our podcast!

About Our Guest
Jennifer Shryock B.A. is also a Certified Dog Behavior Consultant (CDBC) and owns Family Paws™ LLC in Cary, NC. Her Dogs & Storks and Dogs & Toddlers programs allow dog trainers to better understand how children affect the household so they can be better coaches to parents and better trainers for family dogs.
As we learned during our eye-opening discussion on the podcast, babies and young children in the home contribute uniquely challenging situations that can cause unforeseen conflicts, even for the most experienced dog trainers. Her support helpline and programs are available to parents and dog trainers worldwide.
You can check out Jennifer's programs and conference here: