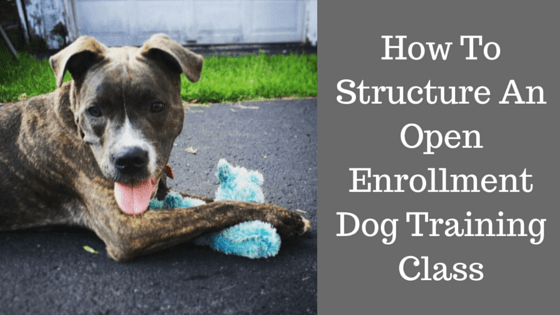 Open Enrollment Dog Training Classes
Open enrollment dog training classes are a big leap from traditionally scheduled and planned classes, but the conveniences they provide to our students are outstanding! Many students are looking for convenience in their classes and this concept can be a delightful change in your class schedule.
Set Up An Orientation Time For New Students
Orientation time can be a separate class time (for example: orientation is each week on Mondays at 6:00 p.m.), 15 – 30 minutes before each class, or a film a video you can send to new clients to watch before class. During orientation, cover topics such as clicker basics, classroom philosophy, and housekeeping items.
Create Your Schedule
Determine how often you want the class to "roll over" or begin again. Make a list of topics you want to cover in a typical series and how many classes it takes to include all of them (my classes "roll over" every six weeks).  Also determine how many times each week you will offer the same class, adding to the flexibility factor of this structure.
Be Prepared To Have Students At Different Levels
Open enrollment classes mean that potentially every student in your class could be at a different level on the same exercise. Be prepared to address these different levels. Using the three D's (duration, distraction, and distance) is helpful in preparing your classes to address the different needs of students at different levels.
Make Flexible, Open-ended Lesson Plans
Having flexible, open-ended lesson plans for each class gives you direction and purpose. It will make each class session more productive if you have goals set ahead of time.
Educate Your Current And Potential Students
Remember, this may be a new concept to your students, too! Explain your new class structure, outline the benefits, and show them how this will the flexibility will suite their needs.
Give It Time To Work
We have taught traditionally planned and scheduled classes for a long time. It's going to take some time for you and your students to get used to this new concept. Give yourself time to settle into this new routine, but make sure your plan is clear to your clients to avoid miscommunication.
Comment below if you run open enrollment dog training classes and what you think of them!
Get Dog Training Business Tips!
Receive valuable dog training business tips and resources every week! Subscribe to The Modern Dog Trainer now by submitting your name and email below.
[mc4wp_form]