When you're first starting out on your own as a dog trainer you might not have all the right forms or documents created until you discover you need them. In this article, I'm going to point out some important and necessary documents you should have ready before you start taking on new clients.
1. In-Depth New Client Intake Form
Intake forms ensure you're aware of the entire situation before taking on a new client. Having an intake form that dives into even the most minor details can help you create a more detailed training program or behavior modification program and may bring out some details about the dog that the owner may not find relevant to their training goals. As the professional, the more details you gather the better you can perform your job.
By gathering as much information as possible before you begin training, you can make the call as to what details about the situation or about the dog are relevant or irrelevant to the owner's training goals.
Your new client intake form should ask questions about the dog's diet, the dog's past behavior history, the owner's lifestyle, the dog's medical history, and much more. Asking questions not only gives you a better understanding of the context of the dog's behavior, but you just might spur some old memories from the client that may be unexpectedly relevant to the dog's behavior changes or issues.
Related: 10 Customizable Dog Training Business Templates
2. New Client Welcome Packet
A new client welcome packet is a handout that explains what it's like to work with a dog trainer, with your business, sets expectations, and sets up the (human) client to be successful as much as it does the dog. For many of your new clients, this will be their first time working with a dog trainer.
What can they expect from you with regards to instructions, communication, and follow-up? What is expected of them? What do you need from them to do your job well and reach their training goals?
A new client welcome packet explains all of this in detail so that they can be comfortable and aren't left with a lot of questions. Giving your new clients a welcome packet helps you look professional and they'll feel supported right from the start. Professionalism and customer experience are some of the best ways to differentiate yourself from your competition.
3. Client Lesson Overview Handout
Most trainers will follow up lessons with an email that briefly overviews what was taught in the lesson or they jot down notes on a blank piece of paper during the lesson. This can leave the client confused and important pieces of training information could be left out of the notes.
Instead, I recommend that you have a worksheet or handout that you fill out as you're working with your clients. This kind of handout can include specific spaces to list management requirements, steps for breaking down complex behaviors and lists of rewards that that specific dog enjoys and will work for. This makes your notes easy for the client to read. Alternatively, you could even have the client fill this out during your lesson. This sets you and your (human) client up for success.
4. Specific Behavior Modification Assessment Forms
Taking on clients with leash reactivity, resource guarding, or separation anxiety? In addition to an in-depth intake form, you should have separate forms for each behavior issue that will require behavior modification. You shouldn't ask clients with dogs with leash reactivity issues questions about separation anxiety and vice versa. (Unless, of course, their dog suffers from both.) Creating extra handouts centered around specific behavior issues will allow you to gather the right, detailed information from clients with specific challenges.
5. Follow Up Emails
Speedy correspondence is important for landing new clients. Making sure you have some emails you can quickly pull from and edit based on the prospect's inquiry will save you time. Having a prepared email ready means you'll also be less likely to forget critical information you'd want your potential client to know.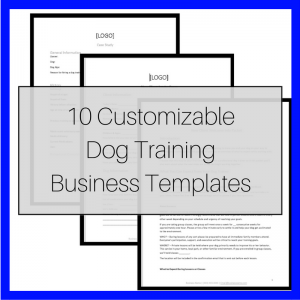 Does this mean you copy/paste your email response without any kind of customization? No. You'll still want to respond to any specific questions the prospect had or tell them that you understand their situation to start building a rapport with them, but having a template to pull from will make it easier for you to respond in a timely manner with all the right information they'll need to begin working with you.
I recommend you check out my New Dog Training Business Template Bundle that includes these five templates and five additional templates to give your business a major jump start. Each template can be completely customized to suit your branding and messaging. These templates and forms include the most relevant and important questions that the best professionals in our industry use all the time.
View The Template Bundle
---
Dog Training Business Tips
Receive valuable dog training business tips and resources right in your inbox! Subscribe to The Modern Dog Trainer now by submitting your name and email below. Don't forget to let us know what you want to learn more about!
[mc4wp_form id="2494″]