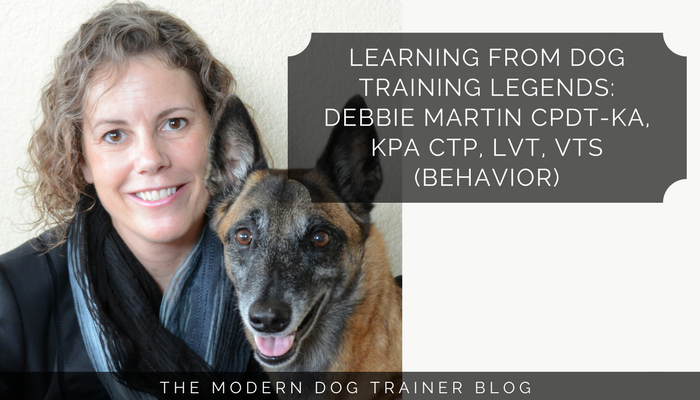 Our next guest in this "Learning from Legends" series is Debbie Martin. (You can read the previous interview with Dr. Susan Friedman here.) Debbie Martin is a Veterinary Technician Specialist in Behavior. Her and her husband, Dr. Kenneth Martin, co-authored the book "Puppy Start Right" which many dog trainers and dog owners turn to for raising their puppies.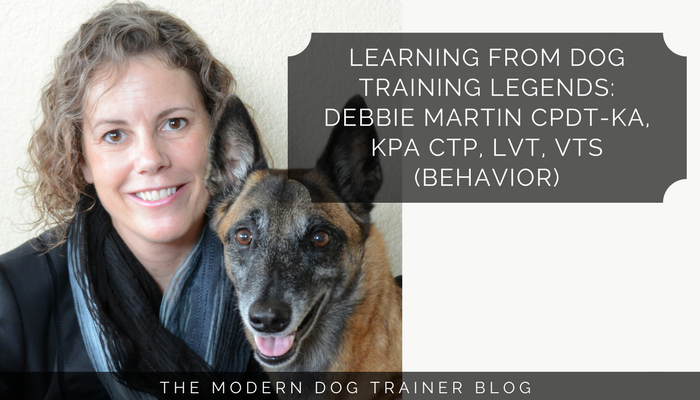 Debbie received a Bachelor of Science degree in human ecology from The Ohio State University and an associate of applied science degree in veterinary technology from Columbus State Community College. She has been a full-time registered/licensed veterinary technician since 1996 and worked in private practice for over 14 years. Since 2005 Debbie has been the animal behavior technician for Veterinary Behavior Consultations, LLC. She assists Kenneth Martin, DVM, DACVB during behavior consultations.
Debbie is the co-owner of TEAM Education in Animal Behavior, LLC, a business focused on providing education on humane training and behavior modification and fostering collaboration between various animal behavior professions.
She is a contributing author and co-editor of the textbook, Canine and Feline Behavior for Veterinary Technicians and Nurses by Wiley-Blackwell. In 2009, Debbie and Dr. Martin wrote a book on normal development and training in dogs; Puppy Start Right: Foundation Training for the Companion Dog. In August of 2012 through Karen Pryor Academy, Debbie and Ken Martin launched the Puppy Start Right Instructors Course. The course provides not only the thorough knowledge necessary to provide puppy socialization classes, but also a complete curriculum with supplemental materials.
Her combined experience in general practice and behavior specialty has fueled her passion for preventive behavior medicine and the Fear Free℠ initiative. Debbie is honored to be representing veterinary technicians on the Fear Free executive council.
In her free time, she loves spending time with her dogs, 3 Belgian Malinois, Jazmin, Iliana, and Polo and her one-eyed Beagle-Jack Russell mix, Iris. Although her current dogs are retired, she has enjoyed competing in Rally Obedience and Agility. A few years ago, Debbie took up motorcycle and dirt bike riding, so when weather and time permits, she and her husband can be found exploring the beautiful terrain of the Hill Country in central Texas on either a street bike or dirt bike.
Let's dive into the interview.
---
My first question is, how did you first get involved in the dog (animal?) training world?
I think it was really two things. First, prior to going back to college to become a veterinary technician, I was a certified preschool teacher. When I graduated from veterinary technology school, I was intrigued by animal behavior and development and how we may be able to influence behavior. My studies in undergrad with human development sparked this interest. Consequently, I started my venture into animal training with learning about and teaching puppy socialization classes in the late 90's. The second factor that influenced my involvement in animal training was my dog, Snickers. Snickers was a shepherd mix I adopted from the Humane Society in my early 20's. He was a wonderful companion but he did have his quirks, such as a fear of children and unfamiliar people and later in life, thunderstorm anxiety and separation anxiety. I learned a lot from Snickers and he sparked my interest in intervention versus preventive veterinary behavior medicine.
I noticed that you are one of only 14 veterinary technicians to have achieved the status of a Veterinary Technician Specialist in Behavior. Can you tell us more about what that is and what it entails?
Becoming a veterinary technician specialist in behavior is similar to a veterinarian becoming board certified in a specialty field but it is for veterinary technicians. There are currently 15 veterinary technician specialties (for a complete list click here). Achieving certification first involves submitting and having an application approved for examination. There are criteria for continuing education, prevention and intervention hours, case reports, case log, and the completion of a skills assessment. Once an application is approved, the candidate partakes in a full day examination which includes written and practical evaluation of the candidate's knowledge and skills. For more information: www.avbt.net
In your experience, what do dog trainers struggle with the most when it comes to severe dog behavior cases?
As a licensed veterinary technician, I am required to work under the direct supervision of a licensed veterinarian or I could lose my license for practicing veterinary medicine without a license. All cases involving behavior disorders such as aggression, anxiety, extreme fears or phobias, would first be evaluated by a veterinarian and a treatment plan would be prescribed by the veterinarian which includes environmental management, behavior modification, training, and on occasion behavioral medications. I then coach pet owners on how to implement the prescribed treatment plan and assist them with questions or concerns they encounter while implementing the treatment plan. The biggest challenge as with all aspects of veterinary medicine (and animal training) is often owner compliance. I get it, they perhaps did not sign up for the challenges they are facing with their animal companion. Thus, I try to make the implementation as easy as possible in their daily routine. If they are unable to work towards more advanced training and behavior modification exercises, avoidance and management can always be an option, as long as the welfare of the pet is not compromised.
At what point should a dog trainer consider getting a Veterinary Behaviorist, such as Dr. Ken Martin, involved with a case?
I may be biased on this as I am working within the veterinary medical model and thus, anything that is considered to be behavioral intervention instead of preventive care, would warrant a veterinary referral. As defined in Canine and Feline Behavior for Veterinary Technicians and Nurses, a behavior 'problem' is defined as, "The animal's behavior is a problem for the owner. The issues could be a lack of training, a conditioned unwanted behavior, a behavioral disorder or a combination of issues." Whereas a behavior disorder refers to, "Psychological or behavioral patterns outside behavioral "norms" that usually have an affective component." Intervention care refers to measures taken to improve or alter an existing behavioral disorder. Intervention requires a veterinarian's diagnosis and treatment plan. Common times when an animal trainer should consider a referral to a board-certified veterinary behaviorist include:
Multiple behavior issues or suspected behavior disorders
Multiple stimuli/triggers or unidentifiable triggers
Anxiety-based issues
Risk of injury to the pet, people, or other animals
Bite history with a lack of bite inhibition
Any acute change in behavior
Geriatric onset
Explosive or out of context behavior
Little or no progress is being made with a training plan
How do dog aggression and dog reactivity differ? Do you treat them differently? (Meaning dogs that are aggressive to other unfamiliar dogs while on leash.)
Reactivity is a nondescript term that could have a variety of motivations from excitement to fear. Aggression is defined as any threatening gesture to increase the distance between the animal and the stimuli.  When a dog is being 'reactive' he might be displaying behaviors such as lunging and barking to increase space between him and the stimuli. This technically would be defined as aggression. Dr. Martin would treat them very similarly; avoid the practicing of the behavior as much as possible through environmental management, start off reinforcing any offered attention to the handler (uncued) and noticing of stimuli (ie ears perked and oriented but not reacting) and from there adding in more advanced exercises pending the response and owners interest. Depending on the size of the dog and risk of possible injury to people or other animals, he would recommend appropriate safety gear, such as basket muzzles, a two leash method, and possibly a deterrent for loose dogs should they approach the dog. If a non-stressful starting point cannot be identified, pharmaceutical intervention might be incorporated into the plan to help facilitate the learning process. If you are stressed out or extreme anxious at the first sight of another dog, it is nearly impossible to learn something.
What are the keys to success when working with dog aggression? (Meaning dogs that are aggressive to other unfamiliar dogs while on leash.)
Arranging the antecedents to prevent the continued practicing of the behavior. Giving the dog a 'stress holiday' can be the first step. Continued activation of the sympathetic nervous system (fight or flight response) day in and day out, primes the body to be ready to react, had deleterious effects on the body, and inhibits the ability to learn to overcome the fear and anxiety associated with the situation. The other component that's really key is owners focusing on rewarding desired behaviors. We coach owners to mark and reinforce anytime the dog checks in with them when outside on a walk. So offered attention to the owner becomes more likely to occur. We also ask them to mark and reinforce noticing stimuli. Catch them when they first notice and reinforce the non-reactive behavior. Alice Tong, KPA CTP has a really great handout on this technique. She calls it the Engage-Disengage Game.
How can dog trainers better prepare themselves before they begin taking on clients? (With relation to their education, with their handouts or written materials for their clients, or anything else they should consider before getting started.)
There are a lot of great positive reinforcement based programs out there. I am most familiar with the Karen Pryor Academy because I was an instructor for them for 8 years. I prefer to not list others because I do not have first hand knowledge of their programs and I also don't want to leave out any great programs that I might not be aware of. Understanding and developing the foundation skills for training are the key to being a good trainer with animals. Being able to communicate that information to clients in a non-blaming and compassionate manner is even more important. There are great books and DVD's available on clickertraining.com, dogwise.com, and tawzerdog.com. Go to as much continuing education as you can! I joke that I feel like a part time job of mine is watching webinars and going to veterinary and animal training conferences or seminars.
Do you have any role models or people you look up to in the animal training industry? (Who and why?)
Everyone I talk to about training whether they be a professional animal trainer, veterinary behaviorist, groomer, or pet owner, I learn from them and with them. All the people out there making a positive difference in the lives of their own pets or clients pets are my role models.
How do you hope the dog training industry will evolve in the future? What do you want it to look like?
Because veterinary professionals and animal trainers have the common goal of improving the human-animal relationship and improving the welfare of animals, I would like to see these two fields start to work closer together. This is a topic I have talked about at Clicker Expo in the past and it is one of the reasons I am involved with the Fear Free movement. Fear Free recognizes the value the modern professional positive reinforcement animal trainer can bring to the veterinary community. There can be challenges in communication and role delineation when two professional fields are working closely together but have perhaps slightly different perspectives.
Where will people be able to see you speak in the coming year?
Fetch Veterinary Conference in San Diego in December 2017. In 2018- Clicker Expo in California and St. Louis. The Western Veterinary Conference, 7 of the Fear Free Symposia (Dallas, TX, Kansas City, MO, Jersey City, NJ, Minneapolis, MN, Boston, MA, Nashville, TN and Atlanta, GA), IAABC conference in April, Castlegar, BC in May, and Southwest Veterinary Symposium in San Antonio, TX in September.  You can check out our speaking schedule here. Although many of these are not yet listed because they do not have an active registration site yet. Check back for updates or sign up to receive updates by registering here.