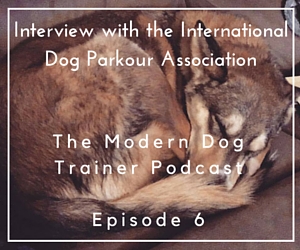 In this podcast we talk to Abigail Curtis DVM, one of the founders of the International Dog Parkour Association. We go over how it all began, what you should know before you get started with dog parkour, and how you can leverage this sport with your clients as a professional dog trainer.
Subscribe to The Modern Dog Trainer Podcast on SoundCloud or iTunes. Follow The Modern Dog Trainer Blog on Twitter at @ModernTrainer, on Facebook at The Modern Dog Trainer Blog Page, and on Instagram at @TheModernDogTrainerBlog. We love hearing from our listeners! Please leave us a review on iTunes to help support our podcast!
The International Dog Parkour Association is a 501c3 non-profit organization founded in 2014 by Karin and Abigail.
To learn more about what dog parkour is and how to get started check out their "What is Dog Parkour" page.