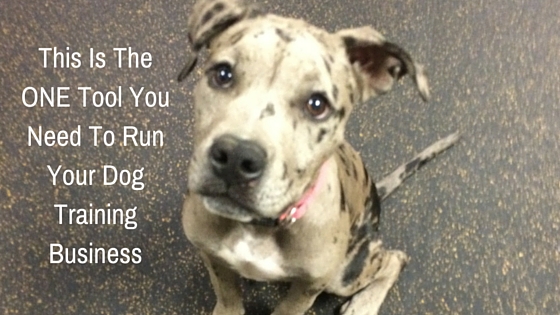 The majority of dog trainers run their business out of their car. They are always on the road going from home to home. We use a variety of tools to track our clients' progress, send invoices, and schedule lessons or day training. Some of those tools include notebooks, iPhones, tablets, laptops, and desktop computers. Switching between this many devices can be a recipe for disorganization, missed appointments, and worst of all – the client's dog not making as much progress as they should.
Fortunately, there is a new app available for FREE to dog trainers. PocketSuite is an iPhone app that allows a dog trainer (or other pet business) to run their business right out of the palm of their hand. This iPhone app is designed for solopreneurs and mobile professionals just like dog trainers. It allows you to send quotes, schedule appointments, track revenue, message clients, and get paid right in one location on your iPhone.
1) Schedule a Lesson and Never Think About It Again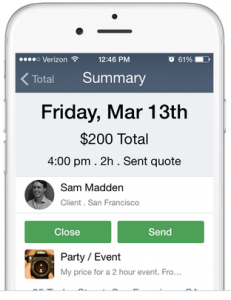 With Pocketsuite, you can schedule a lesson or package of lessons with a client and rest assured they will receive a reminder notification at a set time before their lesson(s). Never worry about forgetting their lesson, forgetting to send a reminder, or purchasing a separate reminder service for your business.
Worry about client's keeping their commitments? This app allows you to ask for confirmation with the client's credit card. If they cancel last-minute, you can charge an automatic cancellation fee for the inconvenience.
2) Send Invoices With An Auto-Reminder
Group all your client's purchases in a single invoice that you can send via text or email. Then, if they don't pay immediately, the app will send automatic reminders every day, every three days, or once a week depending on your preference. You won't have to remember to remind your clients and it will be more likely that you'll get paid on time!
3) Pay A Smaller Credit Card Processing Fee Than Any Other Service
That's right! PocketSuite only charges 1.99% per charge as compared to PayPal (2.9%), SquareUp (2.75%), or Stripe (2.9% + 30¢). The app allows you to track your previous and predicted income easily. Clients can pay safely with their credit card or Apple Pay. With the app, you will never see their credit card information which will make clients feel more secure about purchasing services from you.
4) Integrate PocketSuite With Your Website & Accept Appointment Reservations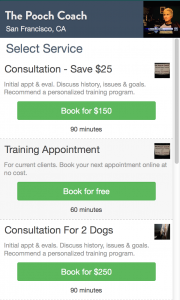 PocketSuite integrates very simply with any website. Through the app, sign up for the widget and it will send you instructions on how to set up online registrations on your website. You can adjust your availability within the app – on the go – and it will seamlessly update with your online widget to prevent double booking.
Read Their Frequently Asked Questions or Sign Up for PocketSuite For FREE By Clicking HERE!
Get Dog Training Business Tips!
Receive valuable dog training business tips and resources every week! Subscribe to The Modern Dog Trainer now by submitting your name and email below.
[mc4wp_form]