COUNTDOWN TO THE APDT 2015 CONFERENCE IN DALLAS
In less than one week, I will be traveling all the way from Barbados (a tiny island in the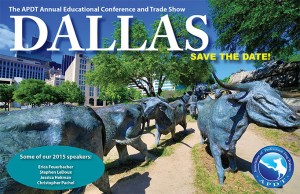 Caribbean) to attend the Association of Professional Dog Trainers' Annual Educational Conference and Trade Show, which will be held from Wednesday, October 14 to Saturday, October 17, 2015, in Dallas, Texas, USA.
The Association of Professional Dog Trainers goal is to promote better trainers through education, and they welcome all trainers in their pursuit of learning modern, scientifically-based training methods.
It was through the APDT that I met positive reinforcement trainers, which started me on my journey to crossing over and I am most grateful to them for this.
Can I say how excited I am??? It will be my first APDT Conference and I have the honor of blogging for The Modern Dog Trainers Website. I get to attend some fantastic presentations by well known and reputable Speakers  –
Dr. Stephen Ledoux
Dr. Roger Abrantes
Dr. Chris Pachel
Dr. Cynthia Otto
Veronica Boutelle
Gina Phairas
Linda Case
Charlene Woodward
Sue Sternberg
Sarah Fulcher
Check out this link for a complete list of Speakers – https://apdt.com/conference/speakers/
There will be live animal workshops where people get to actually work with guinea pigs in Dr. Roger Abrantes' Scent Detection Workshop; Dr. Lore Haug's IAABC Workshop – Advanced Behavior Techniques & Practices; working with dogs at the Dallas SPCA to learn new skills or hone their current skills in Teoti Anderson's Desensitization & Counter Conditioning; Lisa McCluskey's Troubleshooting Aggression/Anxiety; Sue Sternberg's On Leash Dog-Dog Encounters.  These Live Animal Workshops have a separate registration fee.
There are also short presentations throughout the day called APDT Shorts. Speakers will be talking about a wide variety of subjects from Aggression, Behaviorology, Business & Marketing, Dog Body Language, Euthanasia, Food, Stress, Science and so much more.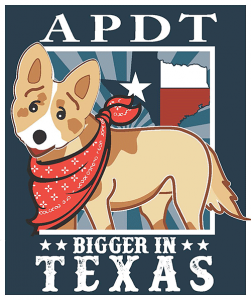 I'm suffering from "too much choice dilemma" since I don't know who I want to see as yet. So I have to sit down, take a look at all the presentations and see which ones to attend that I can learn and benefit from the most. I really wish I could see ALL the speakers live.
But the good news is that if you want to get all the latest information and earn CEUs, you can buy their DVDs at https://apdt.com/conference/dvd/ or receive access to the Online Library at https://apdt.com/conference/streaming/
When you arrive at the conference hotel, the Sheraton Dallas Hotel, you need to check in at the Registration Desk to pick up your packet and you can ask them any questions.
Not only are the educational benefits diverse, but there are lots of opportunities to network, too:
Scavenger Hunt
Puppy Bingo
Click-it With a Ticket
Brochure and Business Card Contests
There is also the Trade Show and Exhibit Hall and I am going to enjoy browsing through and buying the books, DVDs, dog toys and other products which will be on show. Hope I don't go over my 50 lb limit for my suitcase.
I know I am certainly looking forward to learning new things and meeting Facebook friends and people I have interviewed. Have I mentioned before that I am soooooooooo excited? LOL.
Get Dog Training Business Tips!
Receive valuable dog training business tips and resources every week! Subscribe to The Modern Dog Trainer now by submitting your name and email below.
[mc4wp_form]