We invited Brad Phifer, President of the Certification Council for Professional Dog Trainers, to discuss some of their new and current policies. Listen as we discuss Brad's views on banning shock collars,  enforcing their CEU presenter credentials, and some exciting plans for the next 3-5 years.

Subscribe to The Modern Dog Trainer Podcast on SoundCloud or iTunes. Follow The Modern Dog Trainer Blog on Twitter at @ModernTrainer, on Facebook at The Modern Dog Trainer Blog Page, and on Instagram at @TheModernDogTrainerBlog. We love hearing from our listeners! Please leave us a review on iTunes to help support our podcast!

Brad's Views on Shock Collars & the CCPDT's Role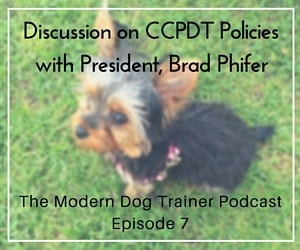 We hit on some major hot topics in this episode. One of those being Brad's views on why the CCPDT should or should not advocate banning them as a certification organization.
Ultimately it comes down to whether or not it is the CCPDT's role to prohibit their certificants from using them all together. Since the CCPDT is not a membership or trade organization, they are simply not in the position to impose that on their certificants.
Qualifying Requirements for CEU Credit
While new requirements for educators and speakers were published in 2014, the enforcement of these new guidelines is just now beginning and people are starting to notice. By December 2016, many widely recognized professional trainers who teach seminars around the world will not be able to provide CEUs to their attendees anymore. This is a challenging situation to accept for many, but ultimately this will move the dog training industry into a new level of professionalism. If you hold yourself, as a dog trainer, to a high standard of education, then why should the speakers you learn from not do so?
Higher education for all will result in increased public safety and a more professional industry all around.
One new policy that has gone unnoticed is the fact that you can now rollover your extra CEUs into your next renewal time period.
Listen all the way to the end of the podcast to discover some interesting revelations about Brad's views on licensing within the dog training industry and the CCPDT's plans for the next 3-5 years.
Dog Training Business Tips
Receive valuable dog training business tips and resources right in your inbox! Subscribe to The Modern Dog Trainer now by submitting your name and email below. Don't forget to let us know what you want to learn more about!
[mc4wp_form]