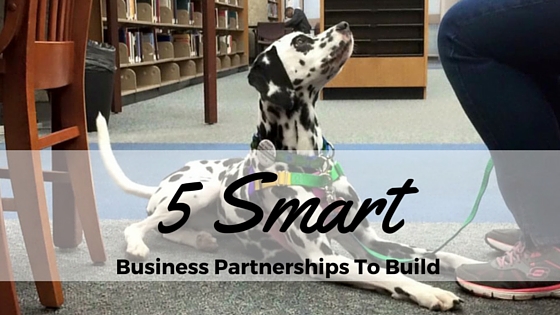 As a modern dog trainer, we are always looking for ways to expand our training and make it fun for our clients. Dogs are becoming a bigger part of our community, and we are looking for many different ways to include our furry friends in our lives. Consider teaming up with other local businesses to offer some new, fresh classes for your clients. Consider these 5 smart business partnerships.
1. Fitness Instructors
Working out can be hard for some people, however, the thought of doing it with their best four legged friend makes it a little bit easier. Consider teaming up with a fitness instructor and offering a workout class that includes their dog and some training to go along with it. Getting exercise is important for both the owner and the dog, and doing so in a safe environment is very appealing to people. Yoga, dancing, and strength training are only the tip of the iceberg when it comes to including dogs in workout classes.
2. Doulas/Parenting Instructors
Consider teaming up with someone who offers support to new parents or parents-to-be. Expecting parents are often very nervous about how their house is going to change once the new baby arrives. Consider 'Introducing Baby' or 'Preparing For Baby' classes that you can run together and offer to clients. Bradley or Lamaze teachers may even be interested in bringing you in for a session during their class periods.
3. Local Pet Stores
Local pet stores are a great business partnership to make. Not only can some of them offer class space, but they can offer a great place to send clients for training supplies if you do not sell merchandise yourself. In return, the pet stores can advertise your classes or business by hanging signs, inserting handouts into bags, or including you in store functions. Consider including their store as a stop in your 'Out and About' classes where you work on behaviors in the real world.
4. Local Artists/Art Shops
There are many different places that could fit the bill for an art shop. Get creative and see about having classes where owners can paint with their dogs, whether it be on canvas or pottery. Work on teaching the dog how to dip their own paws in paint, or how to hold a paint brush.
5. Restaurants With Outside Patios
Usually restaurants allow dogs on their outside patios, however making a business partnership with a restaurant can lead to a 'Dog's Night Out'. Have a night where your students can come and bring their dogs, enjoy dinner together, and practice their manners in a public setting. This can be a refreshing evening for your students who have dogs that suffer from separation anxiety and may not be able to get out much.
These are only a few examples of partnerships that can lead to fun, new classes. Get creative and think about who you already know. Can they help create a new class for you? What other partnerships have you considered or do you already have?