Coming up with names for any business can be rather fun. For dog trainers, we tend to think of cute names that may draw clients into training that sounds happy and joyful. Fun aside, naming your business has important difficulties as well as benefits if you plan ahead.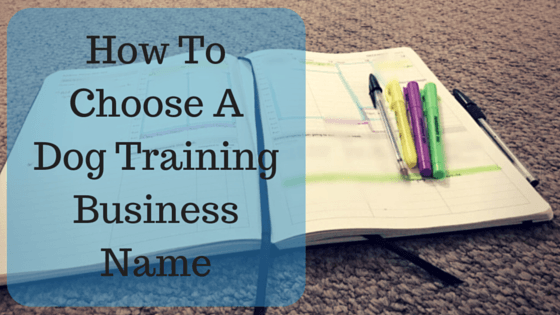 The big problem with business names.
The biggest problem you're going to have in naming your business is finding one that isn't already taken. The second biggest problem is going to be finding a name that is available as a web address for your website as well as any social channels you want to use to market and promote your business.
Twitter sets a 15 character limit on usernames, or the @ name. If your business name is Dogs Rock Awesome Dog Training, you're going to have some problems getting that down to a memorable 15 character name. While Facebook's limit is 70 characters for Page names, people are using mobile apps more often, so the longer name may prevent them from searching for you.
In a perfect world your business name will be available as a web address domain, Facebook Page, and usernames on Twitter, Youtube, and Instagram at the least. Branding across platforms is important. While we can provide links from the domain to Youtube or from Youtube to Twitter, people need to find you first to click the link. You want to be findable without people having to visit one of your channels first.
Do you really need a business name?
Technically, you already have a business name. Your personal name is your business until you register a Doing Business As (DBA) with your county licensing office as a front for your personal name. Is there anything wrong with John Smith Dog Training? Absolutely not. You are the face for your brand. You're doing the training. You might as well be transparent about it and use your name.
Pros:
The web address is probably available for either just your name or with the service: JohnSmith.com or JohnSmithDogTraining.com.
Once people meet you your name is easy to remember.
Your name travels with you, so should you move you won't have to rebrand.
Your name can change services, so if you add boarding services later you don't have to worry about changing the web address to reflect that.
Cons:
No one knows who you are, so marketing can be difficult.
JohnSmith.com could be any service. Without keywords in the domain name you have to really use your web content to get on the front page of Google searches.
If you grow to the point you hire employees clients may be confused when John Smith doesn't show up at their door to train their dog.
Location as your business name.
When people go searching the internet for a dog trainer the most common search is My City Dog Training. While using your city and Dog Training sounds boring, it really will move you to the front page of Google pretty quickly. If your goal is to get up and running quickly and you don't care about creative names, this is the fastest route.
Pros:
More likely to get on the front page of Google.
You can hire any employees without creating confusion.
Social channels will probably be available if the domain is available.
Cons:
If you live in a common city name like Springfield, your name may already be taken by a busniess in another state.
Moving becomes a problem. While you can forward MyCityDogTraining.com to MyNewCityDogTraining.com, you're still basically starting over with a brand new business.
Creating a name.
When I was thinking of business names I spent a lot of time searching the internet for naming "rules." One of the most helpful pieces of advice I found was to create a name that didn't require you to spell it when said out loud. The concept is, if you're at a networking event, noisy conference, or hanging out in a bar, you should be able to say your business name and have it understood.
The out loud rule is very difficult for dog trainers. Domain names may be available using "K9" instead of "canine," or "dawg," instead of "dog," but those names will require a whole lot of explanation and spelling if you're passing your name verbally. Is it possible to market and succeed with words shortened and misspelled? Yes, but it will probably take more time and you'd need to make sure you have business cards on you at all times.
Ebay and Google are names that had no meaning before they started. You can let your creative juices flow and just create a name. OgDay? Doggle? Making up words can be fun, just remember that marketing and focused keywords on your website are going to be very important. Also, watch out for bad words or alternative meanings in the middle of made up words. Sinep might sound snappy, but read it backwards.
Putting two or more words together to make one shorter word can help with the character limits on social media channels. An example might be taking the first few letters of Reward Based Training, and creating RewBa Train. Rewba.com and RewBaTrain.com are available, and social channels probably would be. While marketing and branding will still be important, if you do it right this kind of name can be memorable more quickly than a completely new made up word.
If you keep entering domains into a domain search and they're taken, it may be time to get some help. There are hundreds of business name generators online that can spark ideas and will check domain availability at the same time.
NameMesh will take your keywords and make new words, find synonyms, and give you "new" domain options. New domain options have different endings to .com and are geared toward defining your business. For instance, you can now get .training or .photography. Some fun options might be dog.ninja or canine.guide. Existing domains have first option for the new domain, so if you own dogtraining.com you have the first option to buy dog.training. Competition is still high for the new domains as people buy them for investments instead of use, but using them allows you more options.
Panabee is another name generator that merges words and concepts pretty effectively. Enter a few words and you'll get quite a few options. Panabee doesn't include the new domain endings, so use this if you want to stick with a .com, .net, and .org.
If your all time perfect domain name is taken, visit the site and see what's there. If you see a splash page from a host like GoDaddy, at the top you will see, "Welcome to: (domain name,) This Web page is parked for FREE, courtesy of GoDaddy.com. This usually means someone is sitting on the domain as an investment. Domain name buying for resale to someone who really wants it isn't as popular as it once was, but it's still done. If you really, really want it, go to the webhost (GoDaddy in the example above,) and put in the domain name in the domain search.  You will get a result page that says the domain is taken, but in tiny text next to that is, " Still want it? Here's what to do." Follow the link and you'll get a page offering to contact the owner for you to see if they'll sell. Expect to pay big. Premium domains run between $500 and $2500 on average.
Due diligence.
While it may not be that big of a deal for your business name to be close to another business in another state, you want to be sure you're not stepping on any toes in your home market. Search for your city and "dog training," for your area and see what businesses are on the first three pages of Google. It's also a good time to see who your main competition is and how they're using they're keywords and name and branding. If your main competition uses K9, you might want to stay away from any name using that shortcut.
Just because a domain is available does not mean it's not trademarked. You can do a quick trademark search at the U.S. Patent Office's Trademark Electronic Search System. The last thing you want is to spend money and time on building brand name recognition only to receive a cease and desist letter.
Did we miss an idea? How did you come up with your business name? Leave us a comment!