What Is Continuing Education?
In a quick, unscientific poll of a small number of colleagues and clients, the overwhelming results were that clients appreciate knowing their trainers are participating in hands-on continuing education. To be among the best of the best in the dog training field, it is important to also be a student.  Some certifications for dog trainers require continuing education to maintain certification; some dog trainers choose to participate in continuing education.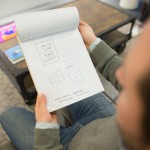 Continuing education can take on many forms. It can be a book that is read, a dvd that is watched, a seminar that is observed, a local workshop that is hands-on, a national conference that is all of the above with the added bonus of networking with colleagues. While a list of books read and dvds watched can be impressive, spending time and funds on a seminar, workshop, and/or conference shows clients a different level of commitment to continuing education – a level of investment both of time and funds to seek out knowledge and information.
Recommended Reading: Top 10 Dog Training Conferences for 2017
Why Is Continuing Education Important For Dog Trainers?
Accountability – seeking out and participating in continuing education puts a trainer into the position of being a student and demonstrating results.
Commitment – commitment to our profession, commitment to our clients, commitment to our dogs. Attending workshops, seminars, classes, etc. sparks a renewed commitment to spend time doing what we love.
Maintenance of/increasing knowledge and skill – use it or lose it! Teaching helps us to maintain our knowledge and skill but continuing education helps us to increase that knowledge and skill. Learning about new thought processes and methods expands our range of who we can help and how we can help them.
Staying on the cutting edge – there is constantly new science about dogs, about learning, about humans, about the dog/human interaction, etc. Participating in continuing education keeps trainers up to date on the latest and greatest science and how it can be useful in dog training.
Related: Check out our "Mastermind Meetups for Modern Dog Trainers" and request one in your area! 
---
Sign up below to stay up to date with modern dog training business practices and dog training methods!
Dog Training Business Tips
Receive valuable dog training business tips and resources right in your inbox! Subscribe to The Modern Dog Trainer now by submitting your name and email below. Don't forget to let us know what you want to learn more about!
[mc4wp_form]