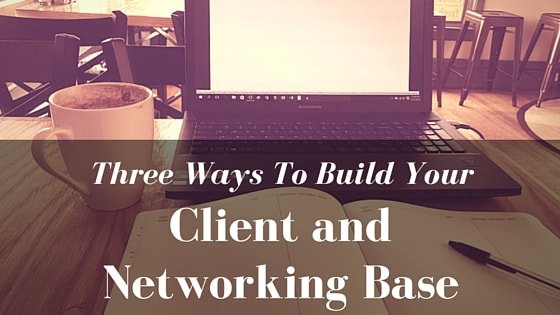 Whether you are starting out or are well-established, keeping your business going is not always a walk in the park. There is so much to consider but perhaps the most central concern is that of getting your name out to the general public. There are several ways to do this, each with their own particular pros and cons. Your dog training business's success will depend on your ability to be recognized. There is no better way to do this than by NETWORKING and 'oh my gosh' it can be daunting task. However, once you get past the initial shock of the concept, you'll find that it's actually quite easy.
Recommended Reading: Why You Should Do Some Market Research Before Starting Your Dog Training Business
Reaching Out To Fellow Dog Trainers
The way I started networking is what I have termed 'going in cold'. I directly emailed nearby trainers (to the North, South and West of me) whose philosophies and training styles most resonated with me. I still remember the first email I sent asking to meet up for coffee or lunch. I regretted hitting the send button almost immediately! But my fears were quickly put to rest. I had failed to realize how warm and willing to help out a well-qualified and experienced dog trainer could be. Thank you John, Linda and Pat for replying to my random invite for coffee! That one little reply email was the stepping-stone for me to connect with other trainers and learn the ropes. It was free and best of all has led to the development of awesome friendships and professional contacts. Even more, the relationships I went out on a limb and created allowed me to learn about how I wanted certain aspects of my own business to be. They even led to my first referrals and clients.
Now the 'going in cold' networking method isn't the only way to gain recognition. You can accomplish the same by going through a paid organization, specifically ones like your local Chamber of Commerce or private associations like Business Network International. They both will cost you up front but they do have the potential to drum up solid business leads and turn you into a permanent fixture in your local community.
Related: Check out our "Mastermind Meetups for Modern Dog Trainers" and request one in your area! 
Join Your Chamber Of Commerce
The most familiar of the two is the local Chamber of Commerce. They typically work to increase your business's visibility by listing your company on their exclusive business directory. Basically a digital Rolodex accessible via the chamber's website to help customers find relevant services. They also publish monthly, quarterly, and or annual newsletters that feature local business and community activities. Typically you pay a fee to advertise in them. This cost is independent of the membership price, which can either be a flat rate (typically $400 plus) or a scaled fee. The scaled rate is dependent on the size or type of business, e.g. professionals and large corporations being charged the highest. Most all Chamber of Commerce advertise that they will increase your business's exposure and recognition. For the most part they do deliver on that promise as is documented by a 2012 research study conducted by the Schaprio Group. They determined that membership is seen as "an effective business strategy" by 59% of consumers. More important for dog trainers is how the study indicates that people will see your business as one that both employs "good business practices" and is "reputable" within the community.
The benefits of being a member are not just limited to customer's perception or being listed in a directory. The hidden value extends from the meaningful face-to-face relationships you will create with local professionals. Through sponsored business mixers and social events (business conferences or luncheons) you will get to know the businesses in your area in person. It is at these events you can make contact with service providers that you, as a business owner, might be in need of–like a quality accountant, photographer, or pet friendly real estate agent. Before you take the leap, keep in mind that programs and service are not all the same. So check with your town's local Chamber of Commerce for specifics at the US Chamber of Commerce Directory.
Become A Member Of BNI
Another well-known organization focused on improving business success by way of networking is Business Network International. BNI is based on the idea that "givers gain" and founded by Dr. Ivan R. Misner in 1985. Each chapter creates a concentrated environment for professionals and local business owners to interact and direct potential customers between them through word-of-mouth marketing. It is quite effective when utilized.
BNI will let you attend a local chapter before joining in order to get a better feel for what they offer. In my case, I attended a meeting that averaged about an hour in length. My sponsor (who invited me) asked that I have ready a 60 second bio about myself, my business, and what goals I have. While a 60 second introduction may feel like a trial by fire, it actually was a great icebreaker as chapter members have had the same experience at one point in their careers. There are some particular rules to be aware of when attending. For instance, each local chapter is limited to only one member of a particular profession/business. This means that there will be only one lawyer, one mechanic, or one dog trainer within the group; however there can be multiple chapters within a city. You can visit a group for FREE twice before deciding whether or not you want to join! Much like the Chamber of Commerce, you will get the chance to gain inside access to professional services that are needed by business owners. In the chapter I belong to I connected with a CPA and a professional photographer that will be a phenomenal help to my business. The carpet cleaning company is also in my sights 😉
In the end the possibilities are boundless when it comes to successful networking. Networking is about getting to know your neighbors and building relationships so you can both succeed. So however you get it done – it will certainly help you out in the long run. Where and how have you had the best experiences networking? Are you a member of any business organizations?
Get Dog Training Business Tips!
Receive valuable dog training business tips and resources every week! Subscribe to The Modern Dog Trainer now by submitting your name and email below.
[mc4wp_form]