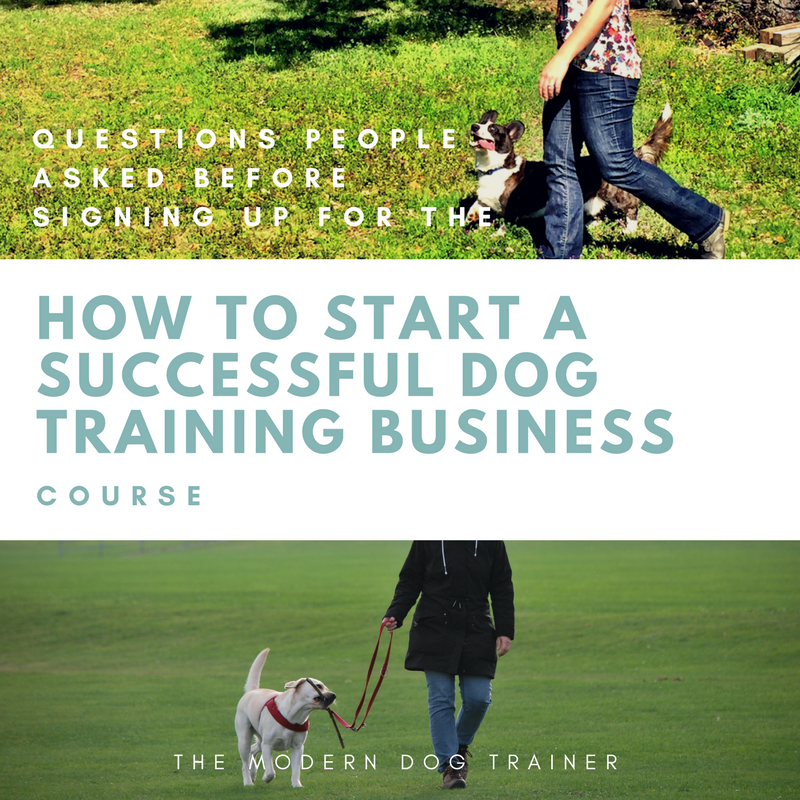 If you haven't heard yet, I've created a course to help new dog trainers start up their businesses correctly and with ease. When you're first starting out, I understand all the questions that are running through your head at any given moment.
When I was starting my own dog training business I spent dozens of hours researching business terms and requirements and asked my mentor what seemed like a million questions. I was lucky to have a mentor, but I know that there are a lot of trainers out there on their own either with no one else around to mentor them, surrounded by other dog trainers that are too competitive to share their knowledge, or are even getting misleading or incorrect information and recommendations from their mentor. (Scary!)
About this Dog Training Business Course
Late last year, I created the course "How to Start a Successful Dog Training Business" which is a 12-week, step-by-step course to launching your dog training business. It includes three months of lessons and actionable instructions on the business, marketing, and client management aspects of starting a dog training business.
On top of lifetime access to a Facebook group and your own set of the popular dog training business template bundle, each week you get a new lesson to teach you about the ins and outs of a dog training business and handouts to help you prioritize and execute your tasks as a new business owner.
My goal is to help dog trainers all over the globe that value
having a business that's set up quickly, but also correctly and legally
protecting themselves and their families from the liabilities of being a dog trainer
building a business that is sustainable for years to come
taking their dog training hobby and want to make a real career out of it
With the help of this course, my goal for you is to:
get your business established and running within 12 weeks (including getting your LLC, insurance, taxes, client policies, website, social media, and services in order)
save you dozens of hours of research and give you the confidence to set up your business correctly and legally
use smart digital marketing techniques to drive traffic to your website and calls to your phone within one week of completing the course
start accepting new clients by the end of the course knowing you're a true professional
have a business that supports you emotionally and financially for years to come so you can do what you love!
---
Join my Facebook Group "Startup Tips for Modern Dog Trainers" for a 30% discount!
---
Questions I've Gotten From Dog Trainers About This Course
"Is this course too good to be true?"
I literally had someone open up to me and ask me this! I was pleasantly surprised to hear this question because it means that I was really hitting on some key aspects of starting up a dog training business that aren't already being addressed by anyone else.
The answer is simple – no, it's not too good to be true, but it is that good! It might seem like it since I address and help you over come a lot of challenges that new dog trainers face – things that people don't want to admit or things that others don't like to talk about (hello liabilities!). I know what it's like to be just starting out so I know what questions are going through your mind right now. Additionally, when you're getting started, you don't know what you don't know (just like when you first started training dogs) so I'm here to bring awareness of some critical parts of your business's success.
"Will all my questions be answered?"
While the course is written to be as thorough as possible, it's impossible to consider every minute situation or question you might come across. That's why it includes a lifetime membership to the course's Facebook group. This group is meant for participants to support each other and I spend some time each week answering questions or providing feedback on things like your website, insurance needs, policies to consider for clients, and more.
"Is it worth it? It's a lot of money and I just want to be sure before I invest such a large sum."
With all the online products at are available these days, I understand your concern. I would be asking the exact same question! Fortunately, you can rest assured that this is an authentic, handwritten course by someone that's been in your shoes and understands what you're up against. I know that starting your own business is scary. With all the business terminology and tasks to get done, it's easy to overlook some important steps to setting up your business correctly which is why I've taken the time and energy to write this course.
It took me many, many, many hours of research and a lot of trial and error to iron things out for my business and I don't wish all that time wasted and those sleepless nights on anyone. Start your business off on the right step and get clients in the door safely and quickly with the help of this course.
There is a lot that goes into starting up a business. I walk you through all the most important steps so you can be confident you're addressing everything that needs addressing such as:
the correct business structure
taxes
insurance
policies for clients
services
marketing tactics that will actually work
Check out what one of my course participants had to say about her investment into this course:

"Is this a specific 12-week program, or can we sign up at any time?"
It is open enrollment so you can join anytime! I know everyone it at a different stage in their business so I wanted to make it available whenever you're ready to get serious about starting your business.
This is a 12-week course delivered to your email once a week. The benefit of receiving it in your email is that you will always have access to it. It's not like a membership website where you have to keep paying monthly for access to the material. With this approach, you'll have the content for as long as you have it in your inbox or you can even download it to your computer.
If 12 weeks is too fast, you can take the course at your own pace by bookmarking the emails as they come and opening them up only when you're ready to take action. Simple!
If you're interested in learning more, you can join the Facebook group. You'll see a pinned post with the link and you can join in the discussion in general!
---
Free eBook: 10 Common Mistakes New Dog Trainers Make With Their Businesses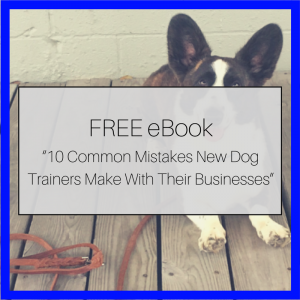 Are you making the same mistakes I made when I was first starting out? 
If you want to be able to make a living by doing something you love, you have to make the right decisions along the way that will sustain and support your passion. In this eBook, I'll warn you of potential mistakes you might be on the verge of making or already are making so that you can course-correct and make improvements that will positively affect your business.
Are the decisions you're making around business, marketing, services, and client management the right ones? Find out in this eBook!
View the eBook