In this podcast we invited Molly Sumridge, board member of the IAABC, to talk about their new shelter animal behavior program for shelter volunteers, staff, and trainers.
Subscribe to The Modern Dog Trainer Podcast on SoundCloud or iTunes. Follow The Modern Dog Trainer Blog on Twitter at @ModernTrainer, on Facebook at The Modern Dog Trainer Blog Page, and on Instagram at @TheModernDogTrainerBlog. We love hearing from our listeners! Please leave us a review on iTunes to help support our podcast!
Episode 4 – The IAABC Shelter Animal Behavior Program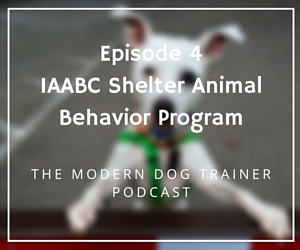 Molly Sumridge runs Kindred Companions in Frenchtown, NJ. We discussed all of the information available to members. Animal shelter volunteers can receive a discount. The IAABC library contains a tremendous amount of reading and handout materials in addition to access to world-renown animal behavior experts. We also discuss how Molly juggles the challenges and benefits of having a business that involves dog training, pet sitting, and a physical pet store.
About the Hosts
Links mentioned in the show:
Dog Training Business Tips
Receive valuable dog training business tips and resources right in your inbox! Subscribe to The Modern Dog Trainer now by submitting your name and email below. Don't forget to let us know what you want to learn more about!
[mc4wp_form]