My eyes opened up to darkness at around 6:00am and instantly I was excited when I realised I was in the Sheraton Dallas Hotel for the 2015 APDT Annual Educational Conference & Trade Show.  This is the first year I have attended and this is known as being a "Puppy".
I made my way down to the Dallas Conference Room for the Opening Session & Welcome given by Amber
Burckhalter, Chair of the Board of Trustees, she welcomed the attendees and gave some random facts about Dallas – Barney the purple dinosaur from the very popular children's tv show originated from Dallas along with German Chocolate Cake and the Margarita machine. She talked about the APDT Foundation and their Auction on Friday.
She handed over to the Treasurer – Robin Bennett, CPDT-KA who reported that the APDT's pre-audit figures as at June 30th, 2015 accounts were in good standing. Casey Lomonaco, KPA CTP, the Secretary advised of the two new Board Members – Nick Hof and Megan Armstrong CPDT-KA, CBCC-KA.
The 2015 Award Members are as follows –
Members of the Year – for the first time that Casey knows of there were two winners – Sandy Crosby, CPDT-KA and Dae Grodin, CPDT-KA.
APDT Scholarship Winners – Mary Fish Arango, MA, Med, Dawn Gardner, CPDT-KA, Samantha Schinder, MA.
Dogwise Shelter – Scholarship Winner – Kim Imel, LVT, CPDT-KA.
Casey & Amber were both presented with a gift for their dedication and hard work.
Amber issued a Challenge to the attendees – Make an Impact – find 3 things from the Conference and take them home to make a difference.
2015 APDT Conference – Keynote Speaker
The keynote speaker was Stephen Ledoux, PhD whose topic – Helping our Canine Friends by Helping Ourselves with Science. His talk highlighted some characteristics of behaviorology, the natural science of behaviour, that enable us to apply it in ways to benefit our canine friends.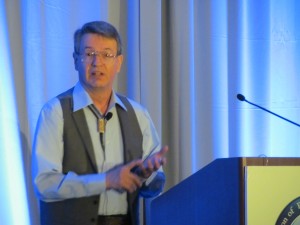 He talked about how to keep magical approaches to behaviour separate from scientific approaches and how to avoid a variety of unhelpful, fictional explanations of behaviour.
Scientific approaches:
Genetics – about the structural foundation of behavior
Physiology – about HOW behaviour happens or occurs
Behaviorology – about WHY behaviour happens or occurs
a. Sample – Recombination of repertoires
i. "Self-Concept"
ii. "Insight"
b. Sample – Concept formation
c. Sample – Complex behaviour
i. Multiple stimuli – affect multiple responses
ii. Coincidental reinforcers and superstitious behaviour
iii. The Law of Cumulative Complexity
The general relation of brain structures to behaviors of consciousness in humans and canine species.
Linda P Case, MS – Beware The Straw Man: Fact, Fiction & Science in the Dog Training World
1. Understand the way in which the scientific method is applied in canine science. Identify important components of a well-designed study.
2. Identify and assess various sources of information, including the "evidence pyramid" of science.
3. Appreciate and assess a research study example case – the effectiveness of "Touch then Treat" training.
Scientific Evidence Pyramid
Systematic Review
Randomized Controlled Studies with Dogs
Case Studies & Case Reports with Dogs
In vitro studies, research in other species
Linda Case then went into an example of a recently published study which examined a technique called "Touch then Treat", a popular training and behaviour modification technique. This study was evaluated along with the results, the relevance of the results and the how further studies were needed to help -trainers, pet professionals and dog owner make well-informed, evidence-based decisions for their dogs.
Roger Abrantes, PhD – The Evolution of Canine Social Behavior
This very interesting talk covered the differences between aggressive, fearful, dominant and submissive behaviour, the variety of expressions in wolves, jackals, foxes and the domestic dog, the greeting, bonding, friendliness parental behaviour, mating strategies. Attendees learnt about dog body language, how to distinguish between closely related but different behaviors, and how to interpret dog behavior based on science rather than popular myths.
Day 1 is now over and my brain is already fried. I wonder what tomorrow will bring.
Get Dog Training Business Tips!
Receive valuable dog training business tips and resources every week! Subscribe to The Modern Dog Trainer now by submitting your name and email below.
[mc4wp_form]