The Modern Dog Trainer Podcast
Listen in to interviews with dog training industry experts to learn how to improve your business or dog training skills.
Welcome to The Modern Dog Trainer Podcast, an industry-leading dog training business podcast in iTunes! On this podcast, we discuss everything related to running and operating a small dog training business. Subjects include, but are not limited to, business operation suggestions, communication tips for clients and colleagues, upcoming events like seminars, and more!
Once you've listened to an episode or two, please take a minute to leave us a rating and review in iTunes! This will help promote the podcast in iTunes rankings. Thanks in advance!
Subscribe to The Modern Dog Trainer Podcast
To subscribe to the podcast, please use the links below:

  Click Here to Subscribe via iTunes 

   Click Here to Subscribe via RSS (non-iTunes feed)
Download the Free SoundCloud App (for iOS or Android)
Come On as a Guest!
Every month we have a different guest on the show and we're always looking for volunteers! If you run a successful business, are an author of a book, or have any knowledge related to dog training or running a small business, we want to hear from you! Contact us and let us know about your expertise.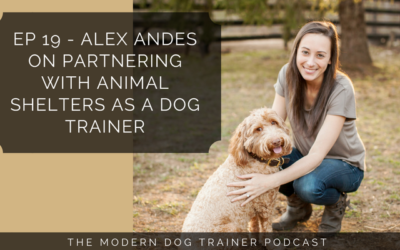 On this episode we had Alex Andes on the show to discuss the positives and negatives of partnering with animal shelters as a dog trainer. Alex has extensive experience working with shelters and has experience with many different aspects of partnering with...
read more