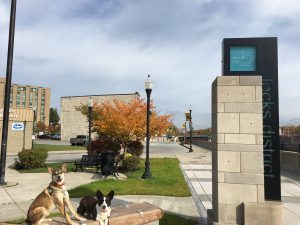 Ever wonder if your city is big enough for you to start your own dog training business? What about if people in your community make enough to pay for a professional dog trainer? Questions like these and others can be answered with smart market research.
If you're wondering whether you should try to "make the leap" as a professional dog trainer with your own business or not, market research can help you confirm or refute your assumptions.
The Purpose of Market Research
Market research done right will help you understand the kind of people you want to serve and will provide answers to questions like:
Who should I serve in my community?
What services should I offer?
What are people in my area willing to pay for?
Should I specialize? If so, what specialty should I focus on for my location?
Will I have enough customers to support my business?
What should I charge for my services?
How can I differentiate myself from my competitors?
How can I serve my customers better than my competitors could?
I see a lot of these questions being asked in Facebook groups by new dog trainers, but the answers you might get on Facebook could be irrelevant or mislead you because they don't consider your geographic area and the demographics that are represented.
Gather General Population Statistics
Some specific statistics you should pay attention to as a dog trainer and make a note of include:
Population within your service area
Personal income per capita – This is considered the average income earned per person in a given area in a specified year. It is calculated by dividing the area's total income by its total population.
Growth or decline in either population or personal income over the last 10 years.
Percent of the population that own dogs
General demographics of the population – Is the general population mostly families with small children or are they an aging community with lots of retirement centers?
Market Research is About More Than Statistics
The best market research involves getting out there in your community and asking real people about their lives and their struggles. Statistics are known as secondary information. Primary information is the information you gather directly from the source – your future customers!
In an effort to help my readers and new dog trainers out there, I've created a FREE 5-day email course to walk you through the steps of market research. I'm really excited about this course because I see so many newcomers ask if their current city can support a new dog training business if they start one. This course will make it easy to answer that question and so many more that people typically have when they're starting out.
Learn more about the course and sign up for FREE below!
Free Market Research Mini-Course for Dog Trainers
Sign up for my 5-day course, "Market Research Course for The Modern Dog Trainer." In this course, I'll send you five modules (one each day) that should take you no more than 15-30 minutes to complete.
The five modules include:
Module 1: Ask the Right Questions to Find the Right Answers
Module 2: Gather Important & Relevant Stats on Your City's Population
Module 3: Learn About The Dog Owners in Your Community
Module 4: Research Your Competitors & Find Differentiators
Module 5: Learn About the Factors that Contribute to Sustainability & Success as a Dog Trainer
With the help of this course, you'll:
Learn what questions you should ask and research before getting started.
Find out if your city is populated and economically strong enough to support your dog training business.
Learn about the specific challenges that dog owners in your community are struggling with.
Understand what your community needs from your dog training business.
Feel confident knowing that you'll be investing time and money into a business that actually has a chance at being successful.
Have fewer fears about starting up your own dog training business.

Fill out the form below to join the course for FREE!