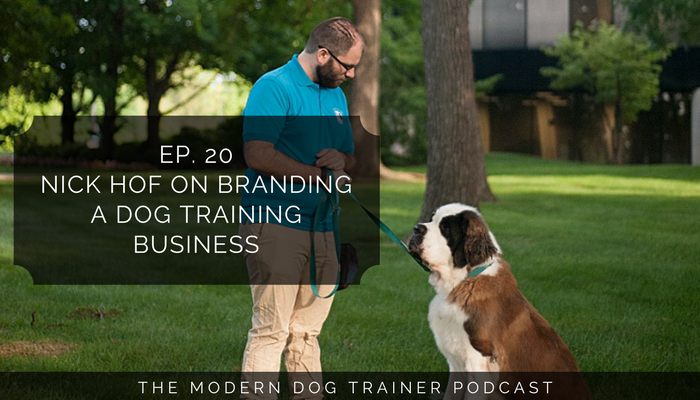 On this episode of The Modern Dog Trainer Podcast, we had Nick Hof on to discuss the many aspects of branding and marketing your dog training business as well as how to stay efficient and professional in your work. Nick has an extremely impressive business presence online and has extensive knowledge and awareness of how his business appears to others. Listen in as we discuss best branding practices and many other tips to help you look and work efficient and professional.
Nick Hof owns Paws Look Listen in Cincinnati, OH offering in-home training for behavior and manners. He is a graduate of the Karen Pryor Academy, the Vice Chair for the Association of Professional Dog Trainers, is a Certified Separation Anxiety Trainer, a Certified Behavior Consultant-Knowledge Assessed, and Certified Professional Dog Trainer-Knowledge Assessed. Nick enjoys working with other trainers, helping them to develop a better image and business practices.
Subscribe to The Modern Dog Trainer Podcast on SoundCloud or iTunes. Follow The Modern Dog Trainer Blog on Twitter at @ModernTrainer, on Facebook at The Modern Dog Trainer Blog Page, and on Instagram at @TheModernDogTrainerBlog. Don't forget to join our FREE Facebook Group, "Startup Tips for Modern Dog Trainers." We love hearing from our listeners!
Please leave us a review on iTunes to help support our podcast!
Video versions of the podcast are available on YouTube. Don't forget to subscribe to The Modern Dog Trainer for notification when a new video or episode is added!
Show Notes
You can find Nick here: