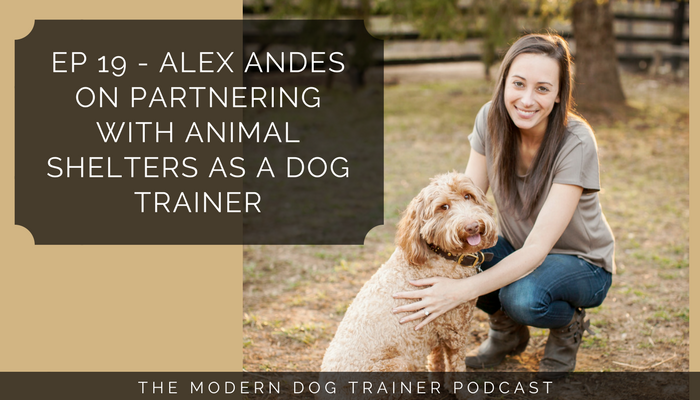 On this episode we had Alex Andes on the show to discuss the positives and negatives of partnering with animal shelters as a dog trainer. Alex has extensive experience working with shelters and has experience with many different aspects of partnering with organizations like this. Listen in as we discuss the many aspects of working with an animal shelter and how to create a mutually beneficial relationship between trainer and shelter.
Peach on a Leash owner and head trainer, Alex Andes, has been training dogs and studying dog behavior for nearly a decade. She attended the University of Georgia, where she began honing her training skills while helping improve the behavior of local shelter dogs to reduce euthanasia rates. She graduated with honors in 2012 and worked as both a pet adoption counselor and an assistant dog trainer before being offered a job with celebrity dog trainer Victoria Stilwell of Animal Planet's "It's Me or the Dog."
Alex traveled the world with Victoria and had the opportunity to learn from her in all facets of training and behavior for over four years before deciding to pursue her dream of launching Peach on a Leash. Their work together allowed Alex the opportunity to work hands-on with both pet dogs and working dogs, including police dogs and accelerant detection dogs. Alex is currently furthering her studies through the prestigious Jean Donaldson Academy for Dog Trainers. She currently offers private training, group classes, board & train, and other training programs to clients in the northern suburbs of Atlanta, Georgia.
As the Official Training Partner of Furkids Animal Rescue and Shelters, Alex is responsible for overseeing the training and enrichment of over 80 shelter dogs. She is also active in the rescue community, working with Atlanta Boxer Rescue, Angels Among Us Pet Rescue, and others.
She shares her home with her husband Will, who is a police K-9 officer, and their beloved dogs.
Subscribe to The Modern Dog Trainer Podcast on SoundCloud or iTunes. Follow The Modern Dog Trainer Blog on Twitter at @ModernTrainer, on Facebook at The Modern Dog Trainer Blog Page, and on Instagram at @TheModernDogTrainerBlog. Don't forget to join our FREE Facebook Group, "Startup Tips for Modern Dog Trainers." We love hearing from our listeners!
Please leave us a review on iTunes to help support our podcast!
Video versions of the podcast are available on YouTube. Don't forget to subscribe to The Modern Dog Trainer for notification when a new video or episode is added!
Show Notes
You can find Alex here: