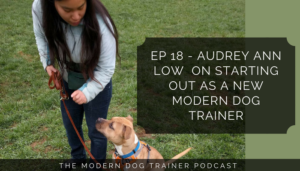 On this episode we had Audrey Ann Low on the show to discuss starting a new dog training business and the challenges involved with it. Audrey just started her dog training business at the middle of May 2017, and has encountered all kinds of challenges along the way. Listen in as we discuss the challenges of starting and marketing a brand new dog training business.
Audrey Ann Low is the founder of Harenhaus K-9 in the Triangle of North Carolina. She is a member of the Association of Professional Dog Trainers, her primary interests lie in training working dogs and enhancing the human-animal bond within all types of human-canine relationships. Since training her first therapy dog in 2004, she has been involved with numerous shelter and rescue organizations, as foster mom, dog walker, and obedience instructor.
Subscribe to The Modern Dog Trainer Podcast on SoundCloud or iTunes. Follow The Modern Dog Trainer Blog on Twitter at @ModernTrainer, on Facebook at The Modern Dog Trainer Blog Page, and on Instagram at @TheModernDogTrainerBlog. Don't forget to join our FREE Facebook Group, "Startup Tips for Modern Dog Trainers." We love hearing from our listeners!
Please leave us a review on iTunes to help support our podcast!
Video versions of the podcast are available on YouTube. Don't forget to subscribe to The Modern Dog Trainer for notification when a new video or episode is added!
Show Notes
You can find Audrey here: