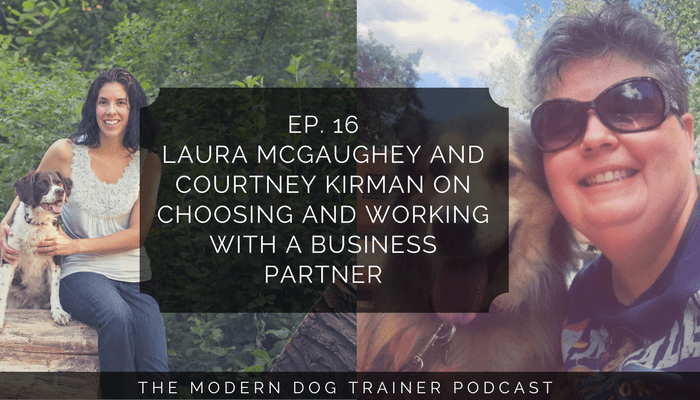 On this episode, we had Laura McGaughey and Courtney Kirman on the show to discuss the things you should consider if you're thinking about bringing a business partner into your training business. There are a lot of things to consider before bringing in a business partner into the mix, here are some things to consider before bringing someone else into your business.
Laura McGauhey and Courtney Kirman run Delightful Doggies in Lakewood, Colorado where they specialize in helping dogs with fear, anxiety, reactivity, over arousal, and aggression.
Laura is the owner and head trainer at Delightful Doggies. A Certified Professional Dog Trainer – Knowledge Assessed (CPDT-KA), her specialty is working with reactive, fearful and aggressive dogs. She obtained her CPDT-KA certification in October, 2014, and certifications as a dog trainer and veterinary assistant from Animal Behavior College in August, 2012 and January, 2013, respectively.
In March, 2013 Laura also achieved primary certification in TAGteach. She is also a professional member of the Pet Professional Guild and co-founder of the Colorado Progressive Reinforcement Trainers group, dedicated to adhering to and promoting force-free training methods.
Laura started on her career path as a dog trainer after spending time as a shelter volunteer. Through the shelter's training program, she found a whole new love and purpose, and vowed to learn as much as possible about dog training and behavior so she could work to keep more dogs in their homes and out of the shelter and rescue system.
A native of Kentucky, Laura relocated permanently to Denver in 1996 and currently resides in Lakewood with her husband, Chris, and her three dogs, Jasper the "fluffy butt shelter mutt," Hidalgo the Chihuahua and Kali the terrier mix. Together they enjoy hikes in the hills and doing nose work both for fun and competition.
Courtney Kirman, owner of Tender Hands Animal Training, has dedicated her life to improving the lives of pets and their people. Her passion and affinity for animals was present from a very early age. Courtney has been studying dog obedience since 2006, when a young Husky named Bailey entered her life. Courtney worked as a dog trainer for a large commercial chain before breaking out on her own and discovering the powerful benefits of the Tellington TTouch approach. TTouch was the missing link that Courtney felt was needed to truly help pets and their people. Courtney believes in a positive and gentle approach to pet training that will build a relationship of trust and respect between animals and the people they share their lives with. She is a native of Arizona and a University of Arizona Alumni. Courtney's passions include animal rescue, hiking, and being in nature with her adopted Brittany and Bluetick Coonhound.
Subscribe to The Modern Dog Trainer Podcast on SoundCloud or iTunes. Follow The Modern Dog Trainer Blog on Twitter at @ModernTrainer, on Facebook at The Modern Dog Trainer Blog Page, and on Instagram at @TheModernDogTrainerBlog. Don't forget to join our FREE Facebook Group, "Startup Tips for Modern Dog Trainers." We love hearing from our listeners!
Please leave us a review on iTunes to help support our podcast!
Video versions of the podcast are available on YouTube. Don't forget to subscribe to The Modern Dog Trainer for notification when a new video or episode is added!
Show Notes
You can find Laura and Courtney here: