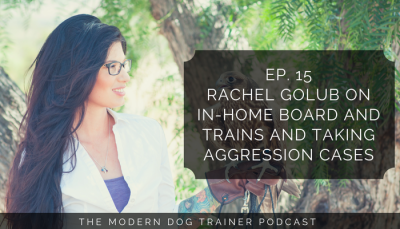 This episode we had Rachel Golub back on the show to discuss all of the things you should consider when offering a board and train program and taking on aggression cases. Rachel was previously on the podcast discussing how to manage dog training with a family and has written a guest post for this blog providing tips for positive trainers that are just getting started.
Rachel Golub and her husband, Dillon Horgur, run San Diego Animal Training, a facility that specializes in a variety of behavioral training, including working with aggression cases and board and trains. Rachel started her animal training career at the Escondido Humane Society in 2008. She began as an Adoptions Counselor and was quickly promoted to Assistant Trainer in the Behavior Department. Rachel went on to apprentice under some of the top trainers in Southern California, receiving her certification as a Professional Dog Trainer from the CCPDT in 2010, and in 2016 she received her Certified Dog Behavior Consultant certification through the International Association of Animal Behavior Consultants.
Subscribe to The Modern Dog Trainer Podcast on SoundCloud or iTunes. Follow The Modern Dog Trainer Blog on Twitter at @ModernTrainer, on Facebook at The Modern Dog Trainer Blog Page, and on Instagram at @TheModernDogTrainerBlog. Don't forget to join our FREE Facebook Group, "Startup Tips for Modern Dog Trainers." We love hearing from our listeners!
Please leave us a review on iTunes to help support our podcast!
Show Notes
You can find Rachel here: