I was excited when I opened up my package, of two DogReins No-Pull Harnesses, a medium and a large, one with a bright red cozy and the other with a yellow cozy.
The color of the harnesses was all black and came with the "reins", a long multi-functional leash that clipped on to the rings located on either side of the harness. I liked this leash since it was light weight, thin width (which fit a woman's hand nicely) and the length adjustable from 4' to 7'. Another feature that I liked about it is that you can attach one clasp to the two rings on the harness and clip the other clasp onto a D ring, making a handle for you to hold it as a single leash.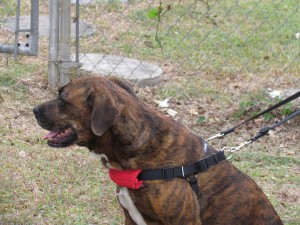 DogReins are Incredibly Easy to Use
I decided NOT to read the instructions that came with it, to see if I could figure out how to put on the DogReins No-Pull Harness, since most are a bit complicated.  Yes, it was VERY easy to do. First indicator was the tag that said "Point To Tail" with an arrow, that's the Top Strap you put over the shoulders/back. Then the cozy with the DogReins embroidered, that was the Front Strap that went across the dog's chest, and the last piece went under the girth, behind the elbows of the front legs called the Belly Strap. It was also easy to adjust to fit.
DogReins in Action: How Well Did They Work?
The first dog to try the Medium Harness was approximately 60lbs, an adult Rottie mix female, who never had a harness on in her life. With her prior history of obedience, it was hard to get her to break position and pull. But she responded beautifully to a slight finger squeeze and steering using the reins in one hand as well as in both hands on the leash to change direction.
I then tried the Large Harness on a 1 ½ year old Mastiff mix, 100+ lb male, who was a puller, the owner was using a choker, but the dog was still dragging his owner around. So I said, let's try this harness instead. He got used to it quickly and while still pulling a bit, his owner found him a lot easier to manage, to stop and to turn. We are still working on loose leash walking with him though. But the owner felt much better about using the harness to walk with him rather than choking his dog and possibly damaging his trachea.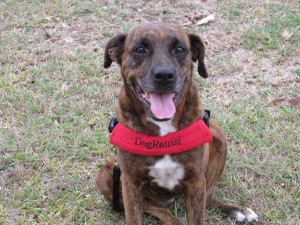 I've tried the harnesses on a variety of doggie clients, most having not had much time to get used to a harness, they adapted quickly and with no fuss to it at all.
When I took off the cozies on both harnesses, I found that the front straps were both crossed; this is how they are designed. They should lay flat not twisted. There is no other way to make the two front straps go to the opposite sides without crossing them. But they covered more surface area on the front of the dog and the moveable part of the strap lay on top of the stationary strap and it kept the straps on the outside.
All of the metal and plastic hardware is strong; the nylon webbing and stitching is smooth, no rough edges, no chaffing. The cozy is easy to put on and take off too, kept in place with Velcro.
Final Thoughts on the DogReins No-Pull Harness
I like how it helps to control dogs easily, that you can walk your dog next to you or in front of you on a loose leash, easy to use the reins in one hand or two, comfortable for both dog and handler, easy to adjust, put on and take off, fits a variety of different shapes and sizes of dogs. And most importantly, the DogReins No-Pull Harness does not restrict nor confine a dog's movement.
This is a well made piece of equipment and it does work well.
My clients and I are very pleased with it and I'd definitely recommend it!
You can order this harness from their website.
Get Dog Training Business Tips!
Receive valuable dog training business tips and resources every week! Subscribe to The Modern Dog Trainer now by submitting your name and email below.
[mc4wp_form]