DIY SEO Course for Dog Trainers
---
A Do-It-Yourselfer's Dream Course for Learning SEO
Want more people to find your dog training services without paying for ads on or offline?  Wish your website would show up on the first page of Google?
Good news! I'm here to show you how to implement good SEO (search engine optimization) techniques to move up in organic search engine rankings (i.e. show up in Google when people search for dog trainers in your area).
What Are The Benefits of This Course?
Wish you were receiving more client inquiries than you have time for? This DIY SEO for Dog Trainers Course will help you update your website so you can get free website traffic and new client inquiries for years to come.
Search Engine Optimization (SEO) is a fancy term for making sure your website has implemented certain tactics to make your website look authoritative, helpful, and relevant in the "eyes" of search engines and, most importantly, your human visitors.
Facebook Live Discussion About SEO
Watch a live video I did in my Facebook group explaining a few concepts around SEO and why it's important for dog trainers to use it.
What You'll Learn From This SEO Course
With this course, you'll:
discover how people searching in Google for "dog training" can find your website
learn what makes websites perform well in search engines
analyze how your website is currently performing and identify what to improve
make changes to your own website to help it perform better than your competitors
minimize future, paid advertising costs because people will find you for free through organic Google searches
know how to avoid SEO scams in the future when they call or email you about your search rankings!
Ultimately, you'll learn how to make updates to your own website without paying hundreds of dollars for a "pro" to do the same work.
Who Is This Course For?
This course is ideal for dog trainers that can build, edit, or manage their own website. You should be able to log into your website, copy/paste html code, and upload images. Your website can be brand new or several years old. You should be comfortable copywriting for your own website either on the main pages of the website or your blog (which I'll explain why you need and how you should go about it in the course).
Course Structure
Module 1: What is SEO? 
History of Search Engine Optimization
Why SEO Matters to Your Dog Training Business
DIY SEO Audit of Your Current Site
Sign Up & Set Up Google Analytics & Search Console
Module 2: Critical Aspects of SEO & How to Improve Your Site
User Experience & User Intention
Local Ranking Factors
Alt & Meta Tags
Site Speed
Module 3: Copywriting for Local SEO
Keywords & Phrases
Keyword Research
Website Structure
How to Write for the Web
Module 4: Blogging for Better Rankings
Why Blogging is Important for Your Website's Ranking
What Technical Aspects Should You Pay Attention To
How to Come Up with Topics on a Regular Basis
How to Incorporate Your Keywords into Your Blog
Module 5: Ways to Future-Proof Your Website
Non-Spammy Link Building Strategies for Local Businesses
Removing Old Website Pages Without Reducing Your Rankings
Creating a Google My Business Page & Other Social Media Profiles
How to Collect and Show Reviews in Google
Bonus: FAQs Summary Lesson – All Your Questions Answered!
I took this course in April and it was the one of the best choices I have made. There are so many scams and unnecessary (and expensive!) SEO tools out there that you really don't need to use when you're starting your own business. This course was extremely educational and prepared me more for what I need to do in running and creating my website. I would do it again in a heartbeat.

Zane Brown
---
DIY SEO Course for Dog Trainers – $299
Start Date: Open Enrollment (Start the course today!)
5 Weeks of Proven SEO Strategies You'll be Able to Use for Years!
4 Lessons a Week with Step-by-Step Instructions on How to Implement it Yourself
Receive Each Lesson in Your Inbox & Keep the Material to Reference Forever
Sign Up for The DIY SEO Course for Dog Trainers
---
What Will You Miss Out On Without This Course?
Without properly implemented SEO on your website, you risk:
Letting your competitors grow their business even faster
Forever having to pay for online and offline advertising to get new clients
Missing out on tons of FREE website traffic from potential clients looking for your services
Don't Fall For Those "Pay For SEO And Better Rankings" Schemes
Tired of getting these emails? Wonder if it would really be worth your money to pay someone for "SEO" work?

I always see dog trainers asking on Facebook if they should invest $150+ per month in a service to improve their rankings in Google. Here's the truth: You cannot pay Google or *anyone* to improve your organic ranking. 95% of these services are scams, do very little for your website, or, worse yet, get your website blacklisted as spam. It pains me to see fellow, well-meaning dog trainers falling for their clever marketing schemes. 
By taking this course, you'll be educating yourself on what SEO is and how you can improve it so that you can avoid these SEO improvement schemes and preserve and improve your online reputation.
Who Am I?
My name is Ines McNeil. I'm a Certified Professional Dog Trainer that started The Modern Dog Trainer blog and podcast in 2014 to provide new dog trainers with the resources they need to have their own successful businesses.
An extension of this goal is to offer courses that will help you take your business to the next level. I spent years learning this material from the ground up for my own dog training business, All Positive Dog Training LLC. When I decided to move my business from Texas to New York, I had to learn how to update my website so that it would show up in searches that covered my new service area.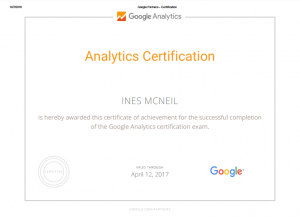 As soon as I made the move and without spending a penny on paid advertising, I began receiving new client inquiries from clients within my new service area. I've since fine-tuned my skills in online marketing, including SEO and am certified in Google Analytics.
Now, whether you're moving or not, I'm going to show you how to see where you currently stand in comparison to your competitors and how to improve your own website to see improvements in search rankings.
Wish you had the problem of receiving more client inquiries than you have time for? SEO will help your website get free traffic for years to come.
---
DIY SEO Course for Dog Trainers $299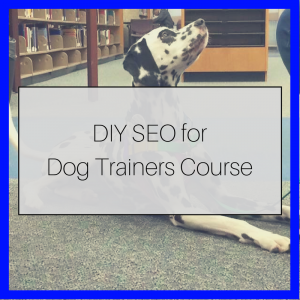 Start Date: Open Enrollment (Start the course today!)
5 Weeks of Proven SEO Strategies You'll be Able to Use for Years!
4 Lessons a Week with Step-by-Step Instructions on How to Implement it Yourself
Receive Each Lesson in Your Inbox & Keep the Material to Reference Forever
Sign Up for The DIY SEO Course for Dog Trainers
---