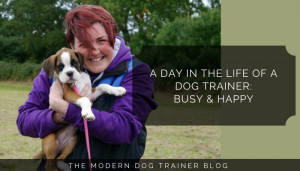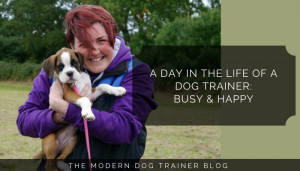 Our next guest in this series is Claire Brown. Claire has a busy scheduled packed full of training and classes. She is booked six weeks out and typically runs lessons six to seven days a week while also doing guest training sessions for other dog trainers and starting a new business training trainers. Getting to this point was tough, but it was absolutely worth it to her and she loves her life as a professional dog trainer.
Here's what a day in her life as a professional dog trainer typically looks like.
Schedule
6:45am W

oken up by Mavis kicking the door in to go outside because she NEEDS a wee

7:00am

Tea, minimum of 2 cups to become functional, 3 the further down the week we get, the dogs eat breakfast from puzzle toys and play, they know about morning mummy and leave me alone

8am W

alk with my guys, quite possibly still trying to wake up

9am B

ack home, tidy round, change into my uniform for work, I'm known for my love of purple, my wardrobe is rows of purple polo shirts and hoodies

10-6pm

One to one training, I have a mix of dogs every day, I train sport dogs and companion dogs, and do behavioral work so every day is different I could be teaching competitive obedience or dealing with a resource guarding cockerpoo, I love them all equally, even the ones that want to bite me

6-9pm

Depending on the day this will be either puppy party (8-12 wk old fuzzy bundles) classes or one to ones

9:30pm

Evening walk with my guys, we will of course have done several sessions of training and walking during the day between jobs, this is wind down time and also gives time for dinner to cook whilst we are out

10:30-11pm

Bed!
I have an admin day on Tuesday when I do all my course info and respond to non urgent inquiries, anything urgent I do daily. I'm super busy, and super happy I absolutely love what I do and wouldn't change it for anything.
About Claire Brown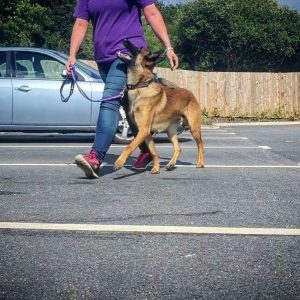 Claire North is the Lead Trainer at North K9.
She has been dog training since 2002 and holds a First Grade Honours Instructors Certificate from the British Institute of Professional Dog Trainers (BIPDT). She's also a registered member working toward accreditation from the Kennel Club Accredited Instructor (KCAI) scheme, and is a Licensed Instructor for Wag It Games. Claire also runs the Northern Institute for Canine Professionals.
Claire is currently working with her Belgian Malinois Havoc in obedience, IPO, and agility. Lurcher puppy Mavis is still finding her feet!
(All photos were provided and authorized for use by Claire Brown.)