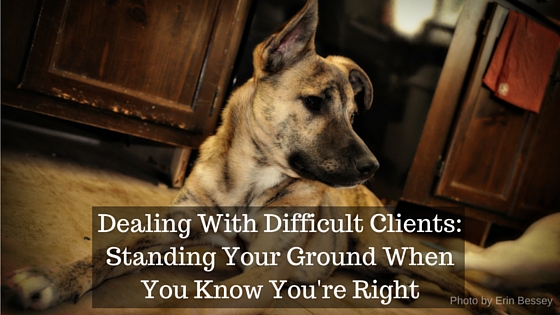 After 10 years in business nothing surprises me. There is no client that can intimidate me, bully me, or otherwise make me feel like I did something to wrong them. I have built a reputable business with thousands of happy customers. Yet, despite that, there will always be otherwise "difficult" customers who will do their best to test your patience and professionalism. Heck, sometimes there's even customers who for a split second will make you feel like you should throw in the towel. What you need to understand as a business owner, and an expert in our industry, is that you cannot make everyone happy. This is a harder egg to swallow than we want to admit. After all, we're dog trainers! What does that actually mean? That means we have feelings. We have empathy for people. We want to make people happy through the service we provide, so we genuinely do feel bad when we let them down – even if and when we know it's not our fault.
What You Should Do With Difficult Clients
I'm here to tell you to man up. Yes, you heard me. Get over it! Customers that make you feel like you're a bad person in some way are not worth your time, the same way that a boyfriend or girlfriend who is emotionally abusive to you in any way is not worth your time. At the end of the day, it's all about relationships, right? Nod yes with me here, because you know I'm right.
For reference, here's an email I received just tonight from an unhappy customer who is convinced, wrongly, that she wasn't made aware of our policy to schedule classes in advance:
Dee,
When I paid for Fluffy, nobody told me anything about pre booking. This is not a cceptable, figure out something else, or reimburse the unused lessons, and I will figure out how I get Fluffy trained. How can you take my money, do not give explanations and do not have space in class?!!!!!!
Upset
Ok. So let's take a look at the above for a second. Firstly, I don't take you seriously because you a) couldn't take the time to write me a proper email with proper spelling, grammar or punctuation and b) you were pushy, demanding and downright rude. Do you actually think you are threatening me by taking your business elsewhere? You're not. Do you know why: because you won't find better trainers, service, or facilities elsewhere. You, client, just shoved your foot in your mouth because you actually thought that by writing me an off the cuff frustrated email would actually get the results you desired. You are so wrong.
Here is my response:
Client,
Unfortunately I cannot make a space appear that doesn't exist. We have an eight-dog limit per class so that all dogs in class have an enjoyable experience. We cannot overbook the classes otherwise we compromise the quality of the training that we provide. Happy to refund your money — I'll get a check in the mail to you tomorrow, that's not a problem. Obviously there was a miscommunication somewhere along the way. It has always been our policy to pre-book for group classes. I've been in business for ten years and we've always required pre-booking for group classes, so I'm a bit surprised that somehow that wasn't communicated clearly to you. I don't know who originally sold you the group class training package but apologize that we didn't meet your expectations. Again, I'll put a check in the mail to you tomorrow.
Sincerely,
Dee
Ok, so yes. My email did take one dig at her. But she totally deserved it. Where in business does it say you have to always be 100% polite? Nowhere last time I checked. Sometimes people need to be dished out what served. That doesn't mean you have to be super rude, or unprofessional, but when a client thinks they can bully you into giving them a result that you simply can't give you have every right, in my opinion, to make it one hundred percent clear that their expectations are unrealistic. My client's demand for me to "figure out something else" is absolutely ridiculous! I mean, seriously?!
After I intentionally put her in place, I made it clear why I couldn't accommodate her. This isn't about her, this is about my business and the over all well-being of all clients that use our services. I have policies in place for a reason, lady! At the end of the day, those policies benefit my customers. If you can't wrap your head around that then I'd be more than happy to show you the door! After showing her the value as to why we require pre-booking, I did apologize. That is, after all, the professional thing to do. I would never, as a business owner, deny somebody an apology for the slim to none chance that it was our screw up. It's the least I can do. Lastly, I would also never, as a business owner, deny someone a refund for un-used services. I have always felt that the absolutely worst thing you can do for your business is tell a customer that there are no refunds. I feel that by not providing a refund for unused services you are indicating to your customer that you value money more than the quality of service you provide. As dog trainers, I know for all of us that is simply not true. We're not in this for the money, so let's not fight over $100 bucks.
Moral of the story? "Difficult" customers aren't worth your time. Let them go instead of trying to accommodate them. As soon as they walk out that door they make room for your next best, and ideal, customer who will appreciate the type of service you're trying to provide.
About The Author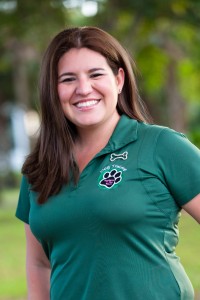 Dee Hoult is the CEO of Applause Your Paws, Miami's largest privately owned reward based dog training company. With twenty-two employees strong, Dee believes in positive people training as well as positive leadership based training for her employees. Although Dee still does see private clients for behavior cases, she is most passionate about her company, her people, and her business processes. Dee personally owns five dogs, two cats, and has a reef aquarium. Her husband Sam is lucky enough to also be one of her most valued employees as of January 1, 2015. You can follow Dee's business on instagram @applauseyourpaws or on facebook at www.facebook.com/applauseyourpaws.