The Modern Dog Trainer Blog
The contributors on this blog have been in your shoes and we want to help you create a profitable dog training business. We're here to show you how to start your dog training business, give you smart marketing tips, make day-to-day business operations simpler and more automated, and so much more!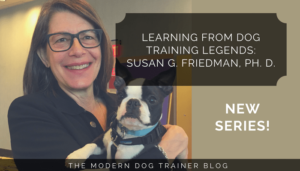 While seminars and webinars are a fabulous way to learn from the dog training industry's well-known experts, it is not often we're able to pull them aside and ask off-the-cuff questions. With this series, I'm asking some questions that are a bit different to get to know these dog training legends on a deeper level.
Write for The Modern Dog Trainer
Have an article in mind that you'd like to contribute to the blog? We'd love to publish it!